Introduction
Multiple sclerosis is an inflammatory and neurodegenerative disease of the central nervous system (CNS) involving the retina, the anterior visual pathway (AVP) and less frequently the posterior visual pathway, that in most cases leads to an inexorable neurological disability[1,2]. The AVP can be impacted both directly, as a consequence of acute demyelination of the optic nerve [acute demyelinating optic neuritis (ON)]/chronic inflammation[3], and potentially indirectly, as a consequence of trans-synaptic processes affecting the posterior visual pathway[4]. The retina is a unique structure in the nervous system in that it is the only part of the nervous system where axons can be directly viewed[5]. Furthermore, given that the retina is generally completely devoid of myelin, and that the axons visible in the retina are myelinated after exiting the globe, the retina represents a great model to evaluate the effect of distal demyelination on axonal health and survival. Moreover, the retina exhibits all the pathological hallmarks of multiple sclerosis (MS) (except for demyelination), such as gliosis/fibrosis, perivascular infiltration of immune cells, innate immune activation and blood-brain/retinal barrier disruption[6]. Here, we review retinal pathology and in particular the role of inflammation in ON, in MS patients' eyes without previous ON, and in the most used animal models of demyelination (experimental autoimmune encephalomyelitis, EAE, and cuprizone); we discuss briefly how optical coherence tomography (OCT) and other imaging tools have improved our ability to directly, longitudinally monitor retinal pathology in brain diseases in the absence of samples for "routine" pathological analysis. We summarize what is understood (and what is assumed) about the underlying mechanisms.
Optic neuritis in MS
ON is an episode of optic nerve inflammation, resulting in demyelination, conduction block, and consequent subacute vision loss. It is frequently encountered in relapsing-remitting multiple sclerosis (RRMS) (around 70% of patients experience it) and is the presenting symptom in up to 25% of patients[3]. ON is also a central feature of the less common neuromyelitis optica (NMO) and myelin oligodendrocyte glycoprotein (MOG) antibody-associated disease, and it can develop in conjunction with acute disseminated encephalomyelitis, sarcoidosis, Lyme disease, syphilis and vasculitis. ON can also be provoked by a viral illness or immunization. Axonal damage is a less prominent but well-recognized feature of demyelinating lesions, with a direct relation between transected axons and degree of inflammation within the lesion[7]. The timing and causes of axonal loss following a demyelinating injury are unclear. Direct damage via immune/glial cells[7-9], secondary ischemic injury and loss of trophic support from myelin have all been implicated, and each may be operative to a different degree. With acute transection, animal studies have established that dying back to the retinal ganglion cell (RGC) soma may take several months[10]. The extent and retinal manifestations of retrobulbar demyelinating injury are highly dependent on the location of the main lesion. Indeed in the acute stage, an ophthalmologic examination reveals that up to two-thirds of patients present with a normal-appearing optic disc (retrobulbar ON), while a third show a swollen optic disk (papillitis, bulbar ON)[11]. Visual evoked potentials (VEPs) p100 delay, asymmetry and wave morphology alteration, together with associated pain with eye movement, relative afferent pupillary defect, magnetic resonance imaging (MRI) of the optic nerve, deficits on static and kinetic visual field testing (which usually follows the topography of the retinal nerve fiber layer (RNFL), with consequent central, cecocentral, altitudinal, and arcuate deficits) and performance on low contrast visual sensitivity and color discrimination, are methods that can determine if a patient with a normal-appearing funduscopic examination is experiencing an acute inflammatory ocular event[12-14].
Optic nerve injury is more common than clinically identifiable events with nearly 100% of patients exhibiting AVP demyelination at the end of life[15].
OCT, a non-invasive imaging technology that has been used to develop methods for quantitative assessment of the inner retina, has produced significant improvements in the strength of our knowledge regarding the timing of inflammation and neurodegeneration in MS optic neuritis (MSON) eyes[16]. Almost twenty years ago, using time-domain OCT, it was established that the peripapillary RNFL (pRNFL) and macular volume (MV) are abnormal in ON[17,18]. The pRNFL, which represents the intraocular, non-demyelinated axons of RGCs around the optic nerve head, is significantly reduced three months after the acute event, and the thinning terminates approximately after six months[19,20]. The temporal quadrant of the retina, containing the papillomacular bundle, which subserves central vision, is the most affected by ON and MS[21]. The papillomacular bundle is composed primarily of parvocellular axons. A plausible hypothesis suggests that size-selective loss is a consequence of the failure of small axons to remyelinate. RNFL thinning after a single ON episode is approximately 5 to 40 μm (averaging at 10-20 μm)[22,23]. In contrast, eyes with more than one previous ON show a significant thinning compared with the single ON ones[22]. During acute retrobulbar ON, OCT reveals more RNFL swelling than can be appreciated on routine fundoscopy with up to 82% demonstrating swelling[24], possibly due to axoplasmic flow stasis. Recently, the introduction of segmentation algorithms for MV has enabled the quantification of the RGCs (macular ganglion cell-inner plexiform layer, GCIPL) integrity[25]. Being less affected by axonal swelling due to inflammation and edema in acute ON, GCIPL evaluation is a more promising tool to track axonal loss and potentially the effect of neuroprotective/remyelinating drugs in the acute stages compared to pRNFL. pRNFL edema is present at clinical onset (being almost absent in the macula) and disappears after one month[26]. Volumetric evaluation of macula and retinal layers reveals a biphasic trend, characterized by atrophy of inner retinal layers (macular RNFL or mRNFL and combined ganglion cell and inner plexiform layer (GCIP) and swelling of the outer layers in the first two months, followed by edema reduction in the outer layers and progressive neurodegeneration of mRNFL and GCIP in the subsequent four months. As expected, GCIP thinning was confirmed to be the best predictor of the short-term visual deficit outcomes, such as low-contrast vision, visual fields, and color vision recovery[26].
Despite the findings described above, we must, however, keep in mind that all this information is to some extent the result of speculations, due to unavailability of tissue samples for pathological retinal evaluations. Therefore, there is a lack of certainties regarding the real meaning (cell infiltration/edema and axonal loss rather than neuronal atrophy) of the described acute thickening and subsequent subacute thinning of the retinal layers. Despite these aspects, monitoring retinal changes due to ON remains a useful way to assess therapeutic strategies targeting neurodegeneration during demyelinating CNS disease.
Multiple sclerosis
In patients with MS, retinal periphlebitis, optic disc pallor, and disruption of the inner retina (slits) can be visualized on funduscopic examination[27,28]. A pale optic disc reflects a pattern of atrophy in the pRNFL[28]. Disruptions of the RNFL will manifest functionally in decreases in visual function. As already pointed out, it is upon histological and immunohistochemical examination that the cellular and molecular processes underlying retinal changes in demyelinating disease can be better understood. Unfortunately, the assessment of demyelinating injury in human disease is encumbered by the limited availability of relevant tissue for evaluation. Most tissue samples in MS come from autopsy specimens at the end of life (and end of the disease course) or from brain biopsies for acute fulminant episodes that are characterized by severe inflammation. These samples, therefore, do not provide unimpeachable data regarding the temporal course of the demyelinating process. Furthermore, frequently the works regarding retinal pathology in MS describe a small number of cases and do not provide an in-depth clinical history of the patients described. In 1983, Toussaint et al.[15] described in a pathological study 32 cases of MS, including 15 cases in which the retina was investigated. Abnormal fibrillar material along the retinal veins was described in 6 of these 15 patients, with no correlation with the duration of the disease. This regularly thickened material, staining green with Masson's trichrome and unstained with glial fibrillary acidic protein, was distributed around all the retinal veins, from the peripapillary region to the equator. Rarefaction of macular RGCs, as well as a reduction in the number of RNFL axons, were described as obvious in most of the analyzed eyes. Interestingly, in two of these specimens, they found some nodular lymphoplasmacytoid infiltrates surrounding retinal vessels, with one invading the vitreous. Kerrison et al.[29] presented a pathological retinal evaluation of 29 patients (26 MS, 3 NMO), mainly focused on the retinal vasculature. Initial vessel evaluation in histopathological sections in the horizontal plane through the pupil and optic nerve showed only one case of inflammation (among 26) while studying the trypsinized vascular network of the caps, inflammation was evident in 20% of cases (4 of 20), 3 of them, bilateral. Atrophy of RNFL and ganglion cell layer was present in 73% of cases. There was no evidence of venous sclerosis, while choroiditis was present in 11.5% of the cases[29]. In 2001, Nikos Evangelou et al.[30] published a work showing a pattern of axonal loss and a cell-specific decrease in neuronal density that offered insight to a pathological mechanism of MS through the examination of autopsy-collected tissue of the lateral geniculate nucleus, optic nerve, and optic tract. Through imaging tissue preparations via a pixel intensity cluster program to count axons, it was found that patients with MS had smaller mean cross-sectional areas in the optic nerve and optic tract and significantly reduced axonal density. Neuronal density was also significantly reduced in the parvocellular layer of the lateral geniculate nucleus of affected patients, demonstrating a size susceptibility of axons in the anterior visual pathway to damage. In patients with MS with and without ON, pathological alteration of tissues has been described in the iris, retina (peripapillary and macular), optic disc, and optic nerve head[18,22,31]. Green et al.[6] completed a systematic pathological evaluation of retinas from 82 patients with MS in which they demonstrated that retinal inflammation is pervasive and prominent in the disease (especially perivascularly). The involved vessels lie in the nerve fiber layer of the retina (the primary layer of interest in MS). Mononuclear lymphocytes may be found near retinal vasculature while HLA-DR-positive cells can be found in the iris, RGC layer, inner nuclear layer, optic disc and optic nerve. Astrocyte proliferation could be seen both around vessels and in the optic nerve head. Furthermore, they found that both tissue atrophy and inflammation could be detected in deeper layers of the retina (including the inner nuclear layer). Additionally, optic nerve and optic disc astrocytic gliosis and evidence of gliomesodermal reaction can also be expected to be seen. Finally, Confocal microscopy of Z01 and occludin protein stained preparations of retinal and optic nerve vasculature reveals tight junction opening that may be associated with glial cell reactions. Morphological changes are also found in the eyes of individuals with MS - optic discs appear indented or "cupped"[6]. Although their work presents some limitation, such as the reduced group of eyes (eight) examined with immunohistochemistry and the paucity of previous clinical history, the description of inner nuclear layer atrophy together with the reduced presence of mononuclear cells represented strong evidence in favor of retrograde trans-synaptic degeneration, confirming previous results suggesting this phenomena[32,33].
A comparison between brain and retinal pathology is complicated by the fact that the human retina is usually devoid of myelin. Despite this limitation, the analysis of different patterns of inflammation and neuronal damage among different anatomical structures has considerable importance to achieve a complete understanding of the pathophysiology of the disease. Active white matter demyelinating lesions are characterized by the presence of macrophages containing cytoplasmic early myelin degradation products both at the lesion edge and throughout the lesion[34]. These lesions are extremely rare in chronic MS and frequent in the active forms of MS (RRMS, SPMS with relapses), probably representing the pathologic substrate of the attacks[35]. Perivascular inflammation, broadly described in brain lesions as containing T lymphocytes and fewer B lymphocytes, plasma cells and granulocytes[36], is a common feature with MS retina, where the vessels running through the RNFL are described as showing a perivascular inflammation involving lymphocytes and other mononuclear cells, apparently phagocytic. Localized perivascular infiltrate in the retina is more frequent in RRMS and SPMS (29%) than PPMS (5%)[6], as well as acute demyelinating lesions. As suggested by Calabresi et al.[37], these findings underline the hypothesis that immune response could be directed against other antigens, unrelated to myelin.
Neuronal damage in the MS brain has been described as a consequence of acute local inflammation, decreasing with lesion chronicity[38,39]. Although axonal loss is most severe in active MS plaques followed by smoldering lesions, inactive plaques and normal-appearing white matter[7,40], a greater extent, at a lower level, of cell loss is present in SPMS and PPMS[38] than RRMS. Similarly, reduction in the population of RGCs was described in 79% of chronic MS retinal samples, while when the cases were classified as acute, RGC loss was evident in 55% of eyes[6]. These data suggest that the already described pronounced diffused inflammatory reaction during the progressive disease course in the normal-appearing white matter, (perivascular cuffs of mononuclear cells, diffuse infiltration of the tissue by T lymphocytes and profound microglial activation)[41], may have the same consequences of the chronic retinal inflammation described in the progressive cases of MS.
OCT imaging of the RNFL is qualitatively comparable to histological measurement in healthy populations[6,31]. As previously mentioned, it is well documented that regardless of a diagnosis of ON, people with MS develop RNFL loss. Utilizing OCT, various groups published about RNFL thinning in the eyes of MS patients with no previous ON[42-45]. The integration of OCT into cutting-edge MS research now allows a more accurate view of structure-function relations in the understanding of the pathophysiology of this enigmatic disease[46]. Loss of myelin in diseases such as MS results in the disruption of nerve signal transmission, damage to the axon, and finally neurodegeneration. This chronic process appears to underlie and be able to predict short- and medium-term disability in MS[47,48]. In chronic disease, some subtypes of neurons/axons show increased relative vulnerability to loss - especially those with a smaller axonal diameter and soma size[49]. In a metanalysis, RNFL loss due to neurodegeneration was quantified as 7 μm (average)[46], while the RNFL loss per year, obtained studying 299 patients for up to 4 years, was described to be 2 μm. Interesting works combining MRI and OCT tried to investigate the processes behind the described chronic axonal loss. Gabilondo et al.[4] evaluated the association between the damage to the anterior and posterior visual pathways, showing the presence of retrograde and anterograde trans-synaptic degeneration, throw volumetric measurement of the synaptic relay between anterior and posterior pathway (thalamus), optic radiation lesions and OCT. Petracca et al.[50] assessed the presence of relations between OCT and cortical lesions in MRI (double inversion recovery and phase-sensitive inversion recovery sequences) in a cohort of primary progressive MS patients and showed an association of cortical lesions with GCIPL and MV, but not with RNFL. More recently, Caverzasi et al.[51] described models based on OCT and MRI metrics able to predict visual disability measured with low contrast letter acuity.
Vacuolar macular changes, predominantly in the inner nuclear layer (INL) of the perimacular rim[52], are found in 0.8%-6% of MS patients[52-54], especially in eyes with a history of acute ON, and in 20% of patients with neuromyelitis optica, where microcystic macular edema (MME) is found exclusively in eyes with prior ON[55]. However, MME is not unique to demyelinating disease and has also been described in prominent vitreous traction, compressive optic neuropathy, glaucoma, age-related macular edema, neurofibromatosis 1-associated optic nerve glioma, dominant optic atrophy, group 2A idiopathic juxtafoveolar retinal telangiectasis, Leber's hereditary optic atrophy, tamoxifen retinopathy, trauma and hydrocephalus[56-59]. While it has been attributed to INL microglial activation leading to blood-retinal barrier breakdown[53], others have postulated that MME could be a result of Müller cell dysfunction[54] or trans-synaptic retrograde degeneration[57,60]. All these explanations could certainly be compatible with different contributory mechanisms acting on patient-specific factors[55]. In MS patients, the presence of MME has been associated with worse disability and disease progression, as well as lower visual acuity[52,53], an increased INL thickness[52], and a thinner retinal nerve fiber layer[53]. INL volume reflects response to immunotherapy[61] and might be a useful tool in stratification of patients with progressive MS for treatment choice[62]. INL swelling seems to be most prominent during early disease, while later in the disease course, the rate of thickening declines until such a time that atrophy begins to supersede the swelling[63]. In addition to MME, macular edema can be found in eyes from patients with MS when accompanied by comorbid clinical uveitis or as a consequence of treatment with fingolimod, a sphingosine-1-phosphate receptor (S1PR) modulator, which was the first FDA-approved oral drug for the treatment of relapsing forms of MS. Inflammation of the uveal tract can be found in 1-3% of patients with MS, and it is ten times more common in MS patients than in the general population. It is typically intermediate (pars planitis), chronic and bilateral, and it can complicate with retinal neovascularization and/or detachment, epiretinal membrane formation and cystoid ME[64]. Interestingly, approximately 10% of patients with intermediate uveitis will develop MS. Cystoid ME can also be the consequence of some MS therapies, such as fingolimod. ME is found in 0.5% of MS patients treated with fingolimod, with a dose-dependent incidence, and normally ceasing upon discontinuation of the drug[65]. Since the S1PR acts on the cell cytoskeleton and on intercellular junctions[66], it regulates endothelial barrier integrity. Fingolimod-associated macular edema may then be caused by inner blood-retinal barrier breakdown through receptor internalization[67].
Worthy of mention in this context are the recent works showing that the visuomotor system could be used to track motor dysfunction in MS through the monitoring of fixational microsaccades[68,69].
Neuromyelitis optica
NMO is an inflammatory demyelinating disease of the CNS caused by antibodies against aquaporin-4 expressed on astrocytes, which causes vision loss and paralysis. ON is the cause of visual disability in NMO. Fundoscopy shows disc atrophy and vascular changes with "frosting"[70]. Eighty percent of NMO eyes experience severely reduced visual acuity (< 20/200) during an acute attack, and most suffer substantial permanent vision loss due to incomplete recovery with greater axonal degeneration (average 31.1 μm) than MS, as measured by OCT[71]. Interestingly the OCT pattern of the RNFL thinning following ON is different if compared with MS, presenting a global pattern of loss with less predilection for the temporal quadrant[70,72]. Small-diameter axons are spared likely because of their dimensions[46]. Both the fundoscopy vascular changes, (attenuation of the peripapillary vascular tree and focal arteriolar narrowing) and the OCT pattern in NMO outline the possibility of a vascularly mediated damage in NMO[71]. Fellow eyes without previous history of ON do not exhibit RNFL thinning[70,73]. Recent works have shown morphological foveal and perifoveal alterations in NMO patients, explained by high-level expression of aquaporin-4 channels in Müller cells[74,75].
Experimental autoimmune encephalomyelitis
Experimental autoimmune encephalomyelitis (EAE) is the most commonly used experimental model comprising all three key clinical features of MS: inflammation, demyelination and axonal loss - with a diminished demyelinating component.
The methods of EAE induction are highly heterogeneous and have a major influence on disease pathology and response to diverse interventions. Traditionally an adjuvant, which contains bacterial components such as attenuated mycobacterium tuberculosis and activates the innate immune response, sensitizes EAE animals to administered myelin antigens such as proteolipid protein (PLP), myelin basic protein (MBP), oligodendrocyte-specific protein or myelin oligodendrocyte glycoprotein[76-80]. For example, after immunization with PLP, the first attack of a relapsing-remitting disease course starts as early as nine days post-induction (dpi) and peaks around twelve to fifteen dpi. From day eleven, 43.9% show unilateral ON and 41.5% bilateral ON; only 14.6% of animals do not show inflammatory infiltrate consistent with ON[76,77]. MOG-induced EAE can have a similar time of onset, but in contrast, the disease is usually monophasic, with the peak of disease (ca. 15-25 dpi) being later and the optic nerve inflammation mostly bilateral[78]. However, the onset of neurodegeneration and demyelination can similarly be as soon as eleven dpi. In all EAE models, the inflammation severity in the afferent visual system is correlated with subsequent demyelination and RGC loss[76-78], the time frame and distribution of disease components; however, it seems to be also influenced by multiple other factors such as the concentrations of antigens or the mouse strain[81,82]. Especially the comparability of EAE induction in transgenic mouse strains might be limited due to changed expression of the target protein or distinct myelin composition[83]. The spectrum of EAE models was further extended by spontaneous severely affected transgenic EAE models carrying myelin-specific T cell receptors or by passive transfer of encephalitogenic T cells[84-88]. Whereas most of these models are based on MOG-specific T cell reactivity[70-73], the immunization with myelin-associated oligodendrocytic basic protein elicits CD4+ T cells recently likewise showed a severe and chronic EAE associated with intense perivascular and parenchymal inflammation, demyelination and neurodegeneration [Table 1]. The following sections describe the inflammatory changes that occur in the afferent visual system in the most used and described MOG-induced EAE model.
Table 1
EAE models presenting ON
| Strain | Immunization | Characteristics |
| --- | --- | --- |
| C57BL/6J | myelin oligodendrocyte glycoprotein MOG35-55 | Usually monophasic, peak of disease ca. 15-25 dpi, optic nerve inflammation mostly bilateral |
| C57BL/6J | passive transfer of encephalitogenic T cells | Highly inflammatory phenotype. ON most frequently bilateral |
| SJL/J | proteolipid protein (PLP) | First attack of a relapsing-remitting disease course starts from 9 dpi, peaks ca. 12-15 dpi. From day eleven, 43.9% show unilateral ON and 41.5% bilateral ON; only 14.6% of animals do not show ON |
| SJL/J | oligodendrocyte-specific protein (OSP) | Chronic relapsing EAE with intense perivascular and parenchymal inflammatory infiltrates, widespread demyelination, axonal loss, and remarkable ON |
| SJL/J | myelin-associated oligodendrocytic basic protein (MOBP) | Severe/chronic EAE associated with intense perivascular and parenchymal infiltrations, widespread demyelination, axonal loss, and remarkable ON |
| TCR2D2 | Pertussis toxin | TCR2D2 mice can develop spontaneous ON more frequently than they develop spontaneous EAE. Injection of pertussis toxin promotes higher incidence of ON and EAE |
Inflammation in EAE
Inflammation in EAE is driven by microglia and CD4+ T cells, with Th1 and Th17 cells playing a crucial role[89]. In healthy mice the continuously layered RGCs in the retina and myelinated axons in the optic nerve are well organized with resting microglia and astrocytes [Figure 1]. In the early stage of EAE, the blood-brain barrier disrupts, and the activation of microglia and infiltration of CD4+ T-cells build an inflammatory CNS environment leading to a swelling of the inner retinal layers and demyelination of the optic nerve[90,91]. It is still challenging to entirely separate the peripheral immune cell infiltration from glial cell response, especially since both reactions show a major temporal overlap, and the activated glia facilitates the secondary recruitment of peripheral immune cells through the release of chemokines[76]. In later stages of EAE, the combined inflammatory reaction leads to severe demyelination, and up to half of the RGCs undergo apoptosis and depletion without a distinct retinal pattern[76]. An increasing number of active microglia is visible from seven dpi, especially in the ganglion cell and inner plexiform layer of the retina, and persists until late stages of the disease[89-93]. The greatest increase of microglia at eleven - fifteen dpi seem to coincide with an immense general cellular infiltrate and activation of astrocytes and macrophages by the excretion of pro-inflammatory markers such as IL-6[88-90]. During the peak of disease, microglia are also the major producer of inducible nitric oxide synthase, further fueling the inflammatory state[90]. A massive T cell infiltration starts circa nine to sixteen dpi around the optic nerve head and then slowly diminishes over the course of the disease[90-92,94]. Knier et al.[94] suggested that the inflammatory reaction in EAE might be region-specific with a lower frequency of macrophages and a higher frequency of centripetally infiltrating granulocytes and IlL17-producing CD4+ Th cells in the optic nerve compared to the brain and spinal cord. Apart from Th17 cells, IL-17 seems to be produced by a considerably increased subset of γδ T cells in the optic nerve, unconventional T cells possessing features of both innate and adaptive immune cells which are suggested to play a critical role in promoting and maintaining inflammation in EAE[95]. The neutralization of IL-17 completely prevented inner retinal layer thinning and immune cell infiltration, further underlining the importance of the IL-17-mediated pathway in EAE-ON[94,96]. In the early inflammatory phase of EAE, macrophages polarize towards a pro-inflammatory phenotype expressing increasing levels of pro-inflammatory markers such as CXCL-10, CXCL-11, IL-12 and IL-23 and thereby contributing to the influx of further inflammatory immune cells and cellular stress, whereas the percentage of anti-inflammatory macrophages is decreased[97]. A recent report suggested that fatty acids including omega-3 and omega-6 can promote a shift of macrophages towards the anti-inflammatory type by enhancing the phosphorylation of STAT3 and decreasing the phosphorylation of NF-κB[97]. The anti-inflammatory phenotype is mainly characterized by the expression of the anti-inflammatory cytokine IL-10, which also independently showed the prevention of further microglial infiltration, MHC II expression and optic nerve demyelination[98]. Several studies have further analyzed the contribution of CD8+ T cells, B cells and monocytes to EAE pathology, but specific descriptions in the afferent visual system are still warranted[99-101].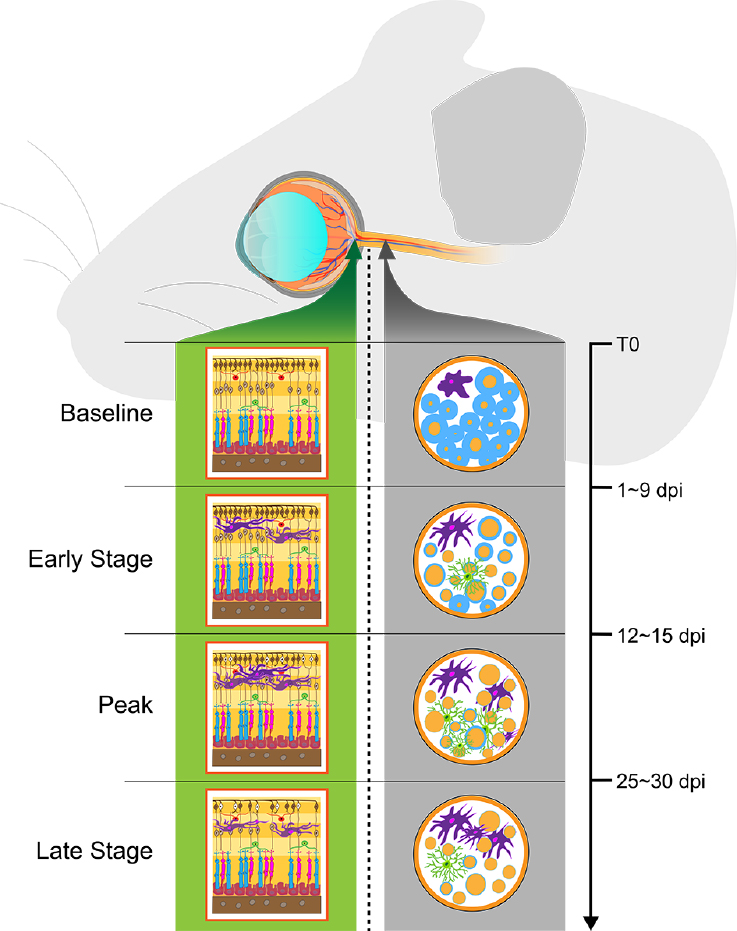 Figure 1. Retinal and optic nerve inflammation during the course of experimental autoimmune encephalomyelitis. Baseline: continuously layered retinal ganglion cells in the retina, well-structured myelinated axons in the optic nerve, resting microglia, and astrocytes. Early-stage and peak of disease: microglia and astrocyte activation, macrophage polarization, T-cell infiltration. Axonal demyelination, swelling, early degeneration. Late-stage: microgliosis, astrogliosis, T cell infiltration, axonal loss, and demyelination
Astrocyte reactivity
Astrocyte reactivity is upregulated from circa eight to nine dpi and is maintained at elevated levels with a slight decrease until a late to chronic disease stage, developing into an astroglial scar[90,91,93]. Especially in early EAE, the astrocyte-dependent inflammatory cascade is a key feature of EAE pathology, including the NF-κB associated upregulation of IL1ß, CXCL10, CCL5, ICAM-1 and TNF with a significant influence on neurotoxicity, demyelination and RGC death[102]. Suppression of this NF-κB-associated upregulation was suggested to lead to an almost absent inflammatory cell infiltrate with less microglia and astrocyte activation and the following subsistence of myelin and axonal content as well as functional output[103]. A recent transcriptomics analysis in optic nerve astrocytes revealed an upregulation of MHC II in early EAE, a reduced cholesterol synthesis in late EAE, and a constant increase in the antigen presentation and complement cascade pathways[104,105]. The latter was characterized by an upregulation of C3 in the optic nerve but not in the retina, which is associated with a neurotoxic phenotype and an aberrant phagocytic activity[90,104,105]. This was balanced only in early EAE by upregulation of Thbs1, which is associated with neuroprotection and synaptic plasticity[104,105]. Interestingly, the C3 and Thbs1 differences were more pronounced in female and male mice, respectively, without inducing a subsequent difference in inflammatory state or demyelination[104,105]. Changes of astrocyte-like Müller cells in the retina were investigated only in a very few and conflicting studies so far[89-91,105].
Contribution of oxidative stress
During the acute and chronic inflammatory process, microglia and other immune cells release cytokines, oxidative products and free radicals. The subsequent neurodegeneration includes complex overlapping processes apart from the primary apoptosis, including ion channel dysfunction, iron accumulation, mitochondriopathy and proteolytic enzyme production, which lead to further production of reactive oxygen species and therefore additional oxidative stress[106]. Multiple studies have shown that the enhancement of antioxidant pathways and mitochondrial function has a major protective effect against immune cell infiltration, optic nerve demyelination, and RGC degeneration and subsequent function[107-121] in the afferent visual system.
Testing anti-inflammatory strategies
Since EAE is the most commonly used animal model for MS with a predominant inflammatory component, it is regularly used to test the effects of new anti-inflammatory treatment strategies and to better understand the pathophysiological mechanisms of on- and off-label drugs. Recent structural and functional measurements such as OCT, VEP, optomotor response, optokinetic response, and electroretinogram (ERG), thereby allow a sensitive longitudinal evaluation of structure and function[79,82,96,106,113,114,122-126]. Advantages and disadvantages of these in vivo readouts, which are increasingly being used in animal models, are described in Table 2.
Table 2
Structural and functional rodent in vivo readouts: advantages and disadvantages
Characteristics
Advantages
Disadvantages
Optical Coherence Tomography (OCT)
OCT uses a low coherence, infrared light source and an interferometer to obtain cross sectional images of biological tissues with extremely high axial resolution (1 microns or less)
It has been optimized for cross sectional imaging of the retina - and has been used to develop methods for quantitative assessment of inner retinal pathology in optic neuropathies. Allows for longitudinal assessment of retinal neurodegeneration
OCT imaging doesn't allow for distinguishing between layer thickness changes due to infiltrate or cell degeneration. Moreover, OCT does not measure retinal function and being neurodegeneration a slow process it needs several months to show the consequences of even massive optic nerve damage
Visual Evoked Potential (VEP)
VEP is an electric potential recorded from the visual cortex in response to a repeating visual stimulus, allowing the evaluation of time needed for a signal to travel from the retina to the brain's visual cortex while averaging out background cortical potentials
VEP has showed the efficacy of a remyelinating drug in MS patients. It could be developed as a high throughput method for pre-clinical screening of remyelinating therapies.
This model would permit assessment of the response to therapy and would allow for the correct optimization of timing and dosing for such therapies
The execution of a non-invasive, reliable and longitudinal VEP in mice presents technical issues. Histological data assessing the direct relationship between demyelination and remyelination and latency delay are lacking
Optokinetic Response (OKR)
OKR measures compensatory eye movements in head-fixed animals exposed to globally rotating striped patterns
evoked easily and reliably, can be used to measure visual function. It allows for a functional evaluation of a different area of the visual system
Less easy to translate to humans than OCT and VEP, due both to the limited use of it in clinic and to the anatomical differences between rodents and humans
Optomotor Response (OMR)
OMR measures compensatory head movements in unrestrained animals exposed to globally rotating striped patterns
It allows for a functional evaluation of a different area of the visual system
Less easy to translate to humans than OCT and VEP, due both to the limited use of it in clinic and to the anatomical differences between rodents and humans
Electroretinogram (ERG)
ERG measures the electrical activity of the retina in response to a light stimulus
It allows for testing the function of the outer layers of retina. RGCs function can be studied performing a pattern ERG (pERG)
The outer retina is not affected primarily by MS or ON. The execution of pERG in mice presents technical issues
For example, intravenous immunoglobulin treatment is an established second-line treatment for acute ON but only recently showed a dose-dependent reduction of microglial infiltration, demyelination and neuroaxonal loss in EAE helping us to better understand its mechanism of action[127]. On the other hand, very promising EAE studies are often only moderately translatable into the effects we see in clinical trials. In this context, the translation from EAE to clinical trials usually works better for treatments with a mainly anti-inflammatory mechanism of action such as laquinimod[128-130], or potential neuroprotective agents such as phenytoin[131,132]. In contrast, the translatability from EAE of remyelinating therapies such as clemastine and monoclonal antibodies against anti-LINGO-1 is very limited due to the underrepresented demyelinating disease component in EAE[133-135]. In the light of upcoming regenerative therapy approaches, MS animal models with a predominant demyelinating component gain further importance.
Magnetic resonance imaging of the optic nerve in the EAE model of MS
MRI has proven useful to assess structural and functional alterations of the AVP and optic nerve portion, which is hidden from clinical evaluation by the bones of the orbit and skull base. The diameter of the optic nerve varies between 1.4 and 4 mm in humans, and 0.06-0.18 mm in mice. Due to its small size, there are challenges associated with imaging of the optic nerve. Specifically, acquisition of high spatial resolution images is required to minimize partial volume effects from surrounding tissue, cerebral spinal fluid, and/or orbital fat. Furthermore, the optic nerve is located next to air-filled sinuses and skull base, which may induce inhomogeneities in the magnetic field, resulting in signal distortions and drop-out. Nonetheless, several studies have highlighted the use of MRI for small animal optic nerve imaging following EAE induction.
Conventional T2 MRI detected the appearance of hyperintensities and swelling of the optic nerve in MOG-induced EAE in marmoset and rodent models, corresponding to areas of demyelination, inflammation and axonal loss determined by post-mortem histopathological analyses[136-139]. However, slight inflammatory infiltration in the optic nerve could not be detected with T2 MRI[136]. In the MOG-induced EAE mouse model, the signal increase on T2-weighted images was observed around the optic nerve at disease onset, peak and chronic time points[92]. Conventional T1-weighted MRI displayed a marked decrease of T1 signal intensity in the optic nerve in a rat model of EAE, which correlated with demyelination, inflammation and axon density[138]. T1-weighted MRI performed post-injection of a gadolinium-based contrast agent enables the detection of alterations in blood-brain barrier integrity. Local gadolinium signal enhancement was detected in the optic nerve of both marmoset and rodent EAE models, as early as two weeks post-immunization, and remained detectable at a later stage of the disease[137,140,141]. Diffusion tensor imaging (DTI) has been the most widely used method to investigate optic nerve abnormalities. DTI makes it possible to measure the directional diffusivities of water molecules, allowing the identification of fiber orientation as well as fiber structure integrity[142]. Several studies have shown that white matter axonal injury results in reduced axial diffusivity (λ||), while demyelination results in increased radial diffusivity (λ⊥)[139,140,143-145]. Sun et al.[143] showed a 19% decrease in λ|| and a 156% increase in λ⊥ in optic nerve at a chronic time point (3 months post-immunization) and reported significant correlations between phosphorylated neurofilaments, indicative of axonal damage, and λ||, and between myelin basic protein and λ⊥. DTI-derived λ|| and diffusion basis spectrum imaging have both shown high potential to detect axonal damage in the acute phase of EAE[144,146], while changes in λ⊥ are usually detectable at a later stage of the disease (4 weeks onward)[92,140,145]. Recently, DTI metrics of the optic nerve have been associated with OCT measures. The ganglion cell complex thickness derived from OCT was positively correlated with λ|| and negatively correlated with λ⊥ at chronic time points[92,145]. In a longitudinal study, λ⊥ was associated with VEP latency in the early stage of EAE (2 weeks), and to VEP amplitude at a later stage (8-12 weeks)[140]. Manganese-enhanced MRI can be used to visualize axonal transport in the optic nerve. As a paramagnetic agent, manganese reduces T1 relaxation time, and its presence can be detected as hyper-intensities in T1-weighted images. When injected directly into the eye, manganese ions (Mn2+) are taken up by RGCs and transported along microtubules in the axons. Lin et al.[147] showed that axonal accumulation rate and axonal transport rate are significantly reduced in optic nerve of mice at the onset of EAE and correlated with impaired visual acuity, as well as histopathological markers of inflammation, demyelination, axonal damage and tubulins. When injected intraperitoneally, manganese was shown to accumulate in the optic nerve of a rat model of EAE and correlated with a reduction of axons[138]. As Mn2+ has been shown to enter neurons through Ca2+ voltage-gated channels, increased detection of Mn2+ might reflect increased calcium influx caused by axon damage. Interestingly, increased Mn2+ signal could be detected as early as 10 min post manganese injection and last up to 7 days, suggesting an increased Ca2+ uptake into the affected nerve and storage within the cells. Besides neurons, macrophages and activated microglia also possess Ca2+ voltage-gated channels and thus might contribute to the increased signal detected by manganese-enhanced MRI[148]. Diffusion functional MRI has been show to detect changes in water diffusion during brain activation following visual or sensory stimuli and has been suggested to identify functional integrity of neurons and axons[149,150]. Following visual stimulation, the apparent diffusion coefficient perpendicular to the axonal fibers (ADC⊥) decreased in the optic nerve of normal mice (~27% ADC⊥ decrease)[151]. In contrast, at the onset of EAE, this decrease in ADC⊥ was reduced (~7% non-significant reduction) and correlated with impaired visual acuity and histological markers of inflammation, demyelination and axonal injury[152]. MR imaging of the retina, including anatomical T1-weighted, T2-weighted, contrast-enhanced, diffusion MRI, as well as blood-flow and functional MRI have been described in health and diseased states, and we refer the reader to a very comprehensive review by Duong for more details[153].
Inflammation of the anterior visual pathway in the cuprizone model
Cuprizone (CPZ) is a copper chelating agent. When fed to adult mice, usually as a 0.2% CPZ-supplemented diet for 4-6 weeks, CPZ induces metabolic stress, myelin sheath breakdown, and oligodendrocyte apoptosis. This results in primary acute demyelination of the corpus callosum with microglial activation, phagocytosis of myelin, and astrocytosis. After three weeks of CPZ treatment, there is spontaneous repopulation of oligodendrocyte precursor cells, ultimately resulting in complete remyelination upon CPZ discontinuation. When CPZ is given for 12 weeks, lesions appear chronically demyelinated, and there is limited remyelination capacity[154]. While short-term CPZ administration leads to synaptic dysfunction and disturbed neurotransmitter concentrations with preservation of axons, long exposures to CPZ can result in axonal degeneration[155]. Classically, it had been considered that CPZ does not cause demyelination in the optic nerves or the spinal cord of C57Bl/6 mice, but later studies have described different degrees of optic nerve injury after CPZ diet. Through immunoblot analysis of CNPase and MBP-like immunoreactivity, Namekata et al.[156] demonstrated that CPZ induces a small yet significant optic nerve demyelination after 12 weeks of treatment. This was accompanied by impaired visual function as assessed by multifocal ERGs. In those experiments, demyelination was partially prevented in mice where the oligodendrocytes in the optic nerve overexpressed dedicator of cytokinesis 3 (Dock3, an activator of GTPase Rac1), possibly by increased activation of extracellular signal-regulated kinases. Interestingly, retinal morphology was normal, and there was no RGC degeneration. Optic nerve injury was not found when limiting CPZ treatment to 6 weeks. A more recent work, however, found demyelination in the optic nerve of mice treated for as short as three weeks with CPZ[157]. In that study, demyelination was reduced (showing a higher g-ratio) in mice treated from day 11 to 21 with daily intraperitoneal injections of probenecid (a pannexin-1 antagonist), suggesting a role for ATP-release channels in modulating the inflammatory response to toxic demyelination. Bagchi et al.[158] saw considerable demyelination in the optic nerve as well after 8 weeks, with axonal preservation. They found spreading of voltage-activated K+ channels (KV1.1 and 1.2 a subunits) from typical juxta-paranodal sites to nodes in demyelinated axons. This resulted in altered evoked compound action potentials (CAPs) in vitro, characterized by initial synchronous waveform followed by a dispersed component - in contrast to the monophasic CAPs seen in controls. Kojima and Hayashi[159] found no oligodendrocyte loss in the optic nerve after CPZ treatment for nine weeks but saw that CPZ induced new contacts between axons and myelin at the internode region. While the lengths of paranodes and nodes (stained with anti-Nav and anti- Caspr, respectively) in CPZ-treated optic nerve were not altered, the lengths of juxtaparanodes (stained with anti-Kv1) were significantly larger than that of the control mice. In any case, demyelination in the visual pathway, at least during shorter CPZ intoxication (i.e., 3-5 weeks), appears to be more prominent in the dorsal lateral geniculate nucleus (dLGN) and the superior colliculus, with relative sparing of the optic tract, according to Araújo et al.[160]. Furthermore, CPZ-induced demyelination is associated with inflammation and reactive astrogliosis in the dLGN. After five weeks of CPZ diet, there is a higher density of ameboid-shaped microglia, which has been linked to a repairing, pro-remyelinating phenotype. At the same time-point, there are synaptic changes toward inhibitory network activity, where excitatory synaptic contacts from glutamatergic retinal input in the dLGN are decreased, and inhibitory GABAergic input from the thalamic reticular nucleus is increased[160].
Conclusion
The dilemma regarding the main causative factors of ON and MS is still a significant puzzle for researchers. However, information regarding the pathogenesis of MS has progressed substantially over the last 20 years. Studies with animal models are one of the main tools responsible for this progress, and although experimental models of ON and MS are not a perfect fit, they make it possible to understand several pathway mechanisms underlying demyelinating pathology.
As such, the development of novel therapies that effectively target the inflammatory and neurodegenerative aspects of ON and MSON cannot inhibit the study of the disease processes and the response to different treatments via various animal models.
Various studies have demonstrated that some drugs are capable of promoting remyelination and increase the number of oligodendrocytes. These remyelinating/neuroprotective approaches aiming to prevent axonal loss as well as myelin damage are incredibly promising, even if physiologically relevant and validated preclinical methods for measuring remyelination in a longitudinal manner are still needed.
Once their beneficial properties are hopefully translated to clinical practice, this new class of drugs has relevance for delaying the progression of disease in patients with both relapsing-remitting and progressive phenotypes of MS and for treating patients with clinically isolated syndrome (like ON) to prevent progression to MS.
Of relevance, most of the studies used young adult female animals. As a consequence, there is a need for additional studies to be performed with male animals, especially using the EAE model of MS. Also, studies with aged animals are warranted, since chronic low-grade inflammation is an essential contributor to various age-related pathologies and natural processes in aging tissues, including the nervous system.
Since as we have seen, the importance of oxidative stress in MS is becoming increasingly recognized, combination therapies using immunomodulators and antioxidant drugs would be of great interest. Broadly speaking, it is conceivable that combination therapy may be more effective for MS patients, especially using agents that target neuroinflammation and remyelination/neurodegeneration. Remyelinating/neuroprotective agents, coupled with an immunomodulator, could be a viable way of enhancing the effectiveness of current drugs. Future studies should determine the effectiveness of combining agents shown to be effective singly in alleviating neuroinflammation, axonal loss and oxidative stress in animal models of chronic progressive disease, as they may exert synergistic effects and may provide more effective therapies for patients with MS.
Declarations
Acknowledgments
We thank Frederike Cosima Oertel for comments that greatly improved the manuscript and Jung Hyung Sin for assistance with the preparation of the figure.
Authors' contributions
Study concept and design, manuscript composition: Cordano C
Manuscript composition: Ramos C, Arnow S, Cruz-Herranz A, Guglielmetti C, Iester M, Bandini F
Availability of data and materials
Not applicable.
Financial support and sponsorship
None.
Conflicts of interest
All authors declared that there are no conflicts of interest.
Ethical approval and consent to participate
Not applicable.
Consent for publication
Not applicable.
Copyright
© The Author(s) 2021.
Cite This Article
OAE Style
Cordano C, Ramos C, Arnow S, Cruz-Herranz A, Guglielmetti C, Iester M, Bandini F. Inflammation in the anterior visual pathway in multiple sclerosis: what do the animal models teach us?. Neuroimmunol Neuroinflammation 2021;8:185-202. http://dx.doi.org/10.20517/2347-8659.2020.54
AMA Style
Cordano C, Ramos C, Arnow S, Cruz-Herranz A, Guglielmetti C, Iester M, Bandini F. Inflammation in the anterior visual pathway in multiple sclerosis: what do the animal models teach us?. Neuroimmunology and Neuroinflammation. 2021; 8(3):185-202. http://dx.doi.org/10.20517/2347-8659.2020.54
Chicago/Turabian Style
Cordano, Christian, Claudia Ramos, Sam Arnow, Andrés Cruz-Herranz, Caroline Guglielmetti, Michele Iester, Fabio Bandini. 2021. "Inflammation in the anterior visual pathway in multiple sclerosis: what do the animal models teach us?" Neuroimmunology and Neuroinflammation. 8, no.3: 185-202. http://dx.doi.org/10.20517/2347-8659.2020.54
ACS Style
Cordano, C.; Ramos C.; Arnow S.; Cruz-Herranz A.; Guglielmetti C.; Iester M.; Bandini F. Inflammation in the anterior visual pathway in multiple sclerosis: what do the animal models teach us?. Neuroimmunol. Neuroinflammation. 2021, 8, 185-202. http://dx.doi.org/10.20517/2347-8659.2020.54