Abstract
The human gut microbiota (HGM) plays a pivotal role in health and disease. Consequently, nutritional and medical research focusing on HGM modulation strategies as a means of improving host health is steadily increasing. In vitro HGM fermentation models offer a valid complement to human and animal studies when it comes to the mechanistic exploration of novel modulation approaches and their direct effects on HGM composition and activity, while excluding interfering host effects. However, in vitro cultivation of HGM can be challenging due to its high oxygen sensitivity and the difficulties of accurately modeling the physio-chemical complexity of the gut environment. Despite the increased use of in vitro HGM models, there is no consensus about appropriate model selection and operation, sometimes leading to major deficiencies in study design and result interpretation. In this review paper, we aim to analyze crucial aspects of the application, setup and operation, data validation and result interpretation of in vitro HGM models. When carefully designed and implemented, in vitro HGM modeling is a powerful strategy for isolating and investigating biotic and abiotic factors in the HGM, as well as evaluating their effects in a controlled environment akin to the gut. Furthermore, complementary approaches combining different in vitro and in vivo models can strengthen the design and interpretation of human studies.
Keywords
Human gut microbiota, intestinal fermentation technology, in vitro modeling, ex vivo cultivation
INTRODUCTION
The human gut microbiota (HGM) is a complex, dynamic, and diverse ecosystem that develops in and inhabits the human intestine from birth. The HGM plays a crucial role in the host's health status by interacting with them either directly via neural, immune, or endocrine pathways, or indirectly by providing metabolic, protective, and developmental functions[1]. This has led to the ongoing development of HGM modulation strategies to promote health. Simultaneously, the HGM is linked with various chronic diseases, including inflammatory bowel disease, metabolic syndrome, type 2 diabetes, colorectal cancer, metabolic disorders, and nervous-system-related diseases in a state of dysbiosis[2-5]. Dysbiosis is defined by Vangay et al. as a "loss of keystone taxa, loss of diversity, shifts in metabolic capacity, or blooms of pathogens" and most commonly occurs due to changes in the exposome[6]. The exposome consists of all biotic and abiotic factors to which an individual is exposed during the course of their life, such as medication, diet, and lifestyle[7]. However, such findings are mainly based on observational studies that fail to explain underlying complex mechanisms[8,9]. At the same time, it is extremely challenging to demonstrate mechanisms and causality, due to the multifactorial interplay between the HGM, the host, and its exposome, analytical restrictions, and limitations on the transmissibility of findings from animal studies to humans[9].
A mechanistic understanding of how the microbiota can lead to disease and how its function can be modulated requires these complex interactions to be disentangled. A holistic approach combining in vitro and animal models with human studies in multiscale strategies has been promoted to decipher the role of the gut microbiota in humans and elucidate hypothesis-based mechanisms[10-12]. In vitro HGM models involving complex communities are increasingly being used in medical and nutritional research. When well designed and properly applied, they make it possible to focus entirely on microbe-microbe interactions, excluding host factors, and are highly suitable for assessing the impact of abiotic or biotic factors from the exposome. Furthermore, in vitro HGM fermentation models can significantly reduce the use of animal testing, which is desirable in light of societal and ethical considerations, and the generated data can be used to optimize in vivo research protocols. For example, evaluating the effectiveness of dietary compounds or drugs in in vitro HGM models enables quality adaptation and improvement prior to in vivo testing[13,14].
Different in vitro HGM model configurations have been employed, from simple batch incubation in anaerobic, here referred to as conditions without an inflow of oxygen, to fully controlled, continuously operated, and complex multistage models. It is crucial to choose model(s) that are appropriate for answering a clearly defined research question. Nevertheless, there is no consensus on the choice of model, experimental setup, indicators for successful cultivation, how closely the host microbiota can be mimicked, or the conclusions that can be appropriately drawn from data obtained through in vitro HGM studies. This can lead to spurious data reports characterized by an imbalance in microbiota composition and activity, inappropriate extrapolation of results, and an inability to compare different in vitro studies. For this reason, we focus here on drawing attention to the most critical points for the proper application, setup, and result interpretation of in vitro HGM models.
RELEVANT CHARACTERISTICS OF HGM AND ITS ENVIRONMENT FOR CULTIVATION ASSAYS
Conditions in the small and large intestines differ greatly. The small intestine, where most nutrients are degraded and absorbed by the host, is characterized by sharp gradients of biotic and abiotic factors that strongly limit the application of relevant models. It is characterized by heterogenous microenvironments, steep longitudinal gradients in nutrients (temporal and spatial), pH, and oxygen, and a short transit time of 2-5 h[15-18]. Thus, the microbial diversity and load is rather low compared to the colon, with 104 to 107 bacteria/g[16]. Further, obtaining a representative sample of small intestine content is almost impossible. Ileostomy samples are sometimes used as proxies, but most people with a stoma are not categorized as healthy individuals and the presence of a stoma can itself change the local environmental conditions (e.g., contamination with air). Thus, there is a lack of knowledge regarding the small intestinal HGM and the biotic and abiotic gradients of the small intestine, as well as representative reference data that would validate a given model. Consequently, most small intestine models are developed for the digestion and absorption of food but lack a microbiota component. Some recent attempts have been made to model fermentation or specific conditions in the small intestine[19-21]. However, important shortcuts still remain: the use of fecal, ileostomy, or single-strain inoculum, operation conditions not well representing the in vivo gradients and medium formulated to mimic the chyme entering the colon[22,23]. A batch model of complete ileostomy fluid as a source of microbiota and nutrients could be an interesting approach for small intestine fermentation.
The colonic HGM is a highly diverse mixture of microbes, mainly composed of anaerobic bacteria but also containing archaea, fungi, protozoa, bacteriophages, and viruses[24-28]. Due to its great abundance and functional importance, most research focuses primarily on the bacterial fraction of the HGM[29]. It has been estimated that the human colon is densely inhabited by approximately 100 trillion bacteria cells, classified into hundreds of different species and distributed among the five dominant phyla: Firmicutes (new name: Bacillota), Bacteroidetes (Bacteroidota), Actinobacteria (Actinomycetota), Verrucomicrobia (Verrucomicrobiota), and Proteobacteria (Pseudomonadota)[30-32]. While the occurrence of the different phyla is highly conserved among subjects, there is large inter-individual variability in terms of species- and strain-level composition[33]. In contrast, metabolic pathways reconstructed from metagenomic data were shown to be stable among individuals, despite variations in community structure[34,35]. Members of the HGM actively shape the community composition through a dynamic network built on positive microbe-microbe interactions (e.g., the exchange of nutrients) as well as negative ones (e.g., the excretion of toxins)[36]. So far, only 30% of the species diversity present in the HGM has been covered by cultured representatives[37].
While the isolation of gut microbes has proven difficult and laborious, mainly due to the unknown nutritional and physicochemical requirements of individual species, it is considered crucial for an in-depth functional understanding of the HGM[31,38]. This underlines the importance of in vitro HGM models that enable the growth of such fastidious and as yet uncultured microbes within a complex community via cross-feeding mechanisms between community members, by supplying the necessary growth factors in the fermentation medium[39]. To maintain the composition and activity profile of an HGM in vitro, culture conditions need to be carefully set to reflect the condition prevailing in the anaerobic gut environment of the human donor. However, chemical and physiological parameters, including pH, oxygen pressure, redox potential, transit time of the intestinal content, nutrient supply, and host secretions, vary between different intestinal sections and consequently shape the composition and activity of the resident communities according to axial and vertical gradients along the gastrointestinal tract[40]. For example, partial oxygen pressure and thus the redox potential, decreases along the radial axis from the mucosa to the lumen, leading to higher proportions of facultative anaerobes from the phyla Proteobacteria and Actinobacteria in samples from rectal mucosa than in feces[41,42]. Therefore, selection of the HGM in vitro model parameters depends heavily on the anatomical region intended to be mimicked in the experimental setup, as gradients cannot be achieved in well-mixed models. Furthermore, compromises must be made concerning distinct host-specific features, such as the absorption of microbial products, host enzymes, and the secretion of antibodies that are difficult to model in vitro. In contrast, chemical and physical parameters, including temperature, pH, redox potential, mixing, and transit time (retention time), are relatively easy to translate to in vitro systems, but vary among individuals. Therefore, representative median conditions for the target population must be carefully selected according to well-identified criteria, such as age, diet, and general health status.
The metabolic activity of the modeled HGM can be assessed directly by targeted metabolite analysis or global methods, such as metatranscriptomics (the entirety of expressed genes) or metaproteomics (the entirety of proteins). An overview of the role of omics approaches in HGM research can be found elsewhere[43]. In practice, HGM activity is mostly monitored by chromatography methods. One of the main functions of the HGM is to break down undigested carbohydrates, proteins, and peptides to form the main short-chain fatty acids (SCFA): acetate, propionate, and butyrate[44]. Measuring these metabolites is a good and commonly applied functional readout of HGM in vitro models. In addition, intermediate metabolites (e.g., succinate, lactate, and formate), branched-chain fatty acids (BCFAs) from proteolytic fermentation and the microbial gasses H2, CO2 and CH4, and any measurable metabolic product can be included in the analysis to obtain a more complete description of the metabolic activity of the modeled HGM[45,46]. HGM composition can be assessed in a targeted manner using 16S rRNA gene amplicon sequencing or quantitative real-time PCR (qPCR). 16S rRNA gene amplicon sequencing identifies bacteria taxa down to the genus level and correspondingly generates relative abundance data[47]. In parallel, qPCR or flow cytometry enables the enumeration of the total bacterial load of the HGM samples and the quantification of low abundant taxa that are below detection in 16S rRNA gene amplicon sequencing[48]. In contrast to the targeted methods, shotgun metagenomic sequencing (MGS) extends the phylogenetic resolution to the species or strain level, provides additional functional information, and can cover as yet uncultured bacterial genomes[49]. Usually, shotgun sequencing is more expensive than 16S rRNA gene amplicon sequencing, largely due to the higher sequencing depth needed. However, recent research suggests using shallow shotgun MGS as a similarly priced alternative to 16S rRNA gene amplicon sequencing, while identifying further species and providing similar information to deep shotgun MGS[50,51].
In conclusion, the strength and validity of HGM models is amplified by the rational selection of operating physico-chemical parameters, combined with sample accessibility and rapidly evolving analytical methods.
THE CHOICE AND PROCESSING OF STARTING MICROBIOTA MATERIALS IMPACTS THE QUALITY OF MODEL DATA
CONCLUSION
In vitro HGM models are excellent tools for HGM research [Figure 2], but we should be aware of certain pitfalls and recognize the limits of models which are only representations of reality. The incorrect application or operation of the in vitro HGM model, together with the poor interpretation of or wrong extrapolation from the data obtained, presents a risk for this growing research field, potentially leading to unrealistic expectations concerning in vitro HGM models, incorrect associations between the HGM and health, and unfounded speculation about the treatments for HGM-related diseases. The points and suggestions made in this paper therefore serve as guidelines for both new users and other interested parties.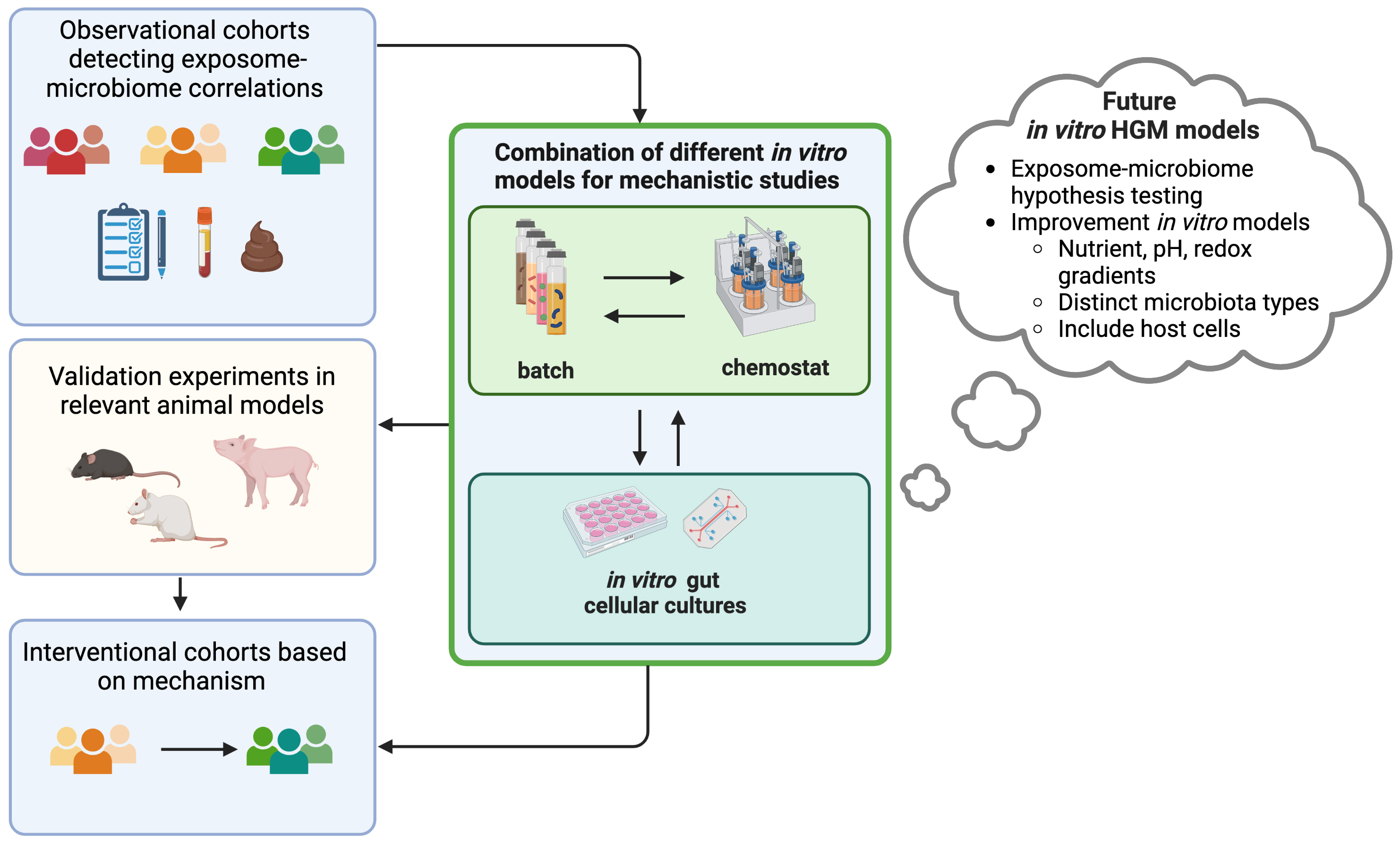 Figure 2. Role of in vitro human gut microbiota models in gut microbiome research (figure created with BioRender).
We are convinced that there are several opportunities for the application and future development of in vitro HGM models [Figure 2]. First of all, they can be used to test and validate hypotheses made on the basis of exposome-microbiome correlations detected in large human cohort studies. Full control over abiotic factors during in vitro long-term HGM cultivation also makes possible the testing and validation of microbial ecology theory using a complex but also more diverse community, compared to synthetic consortia. Second, growing knowledge about the physiology of the gut and factors determining the gut microbiome in health and disease can also be integrated, in order to improve in vitro HGM configurations, operations, and nutrient parameters. For example, the development of in vitro HGM models for different microbial community states in health (different enterotypes) or disease. Third, the combination of different types of in vitro HGM models enables us to expand the conclusions drawn from the data obtained. For example, batch HGM experiments to screen treatments or different donor microbiota can be complemented with chemostat experiments to further investigate the impact of a particular treatment on the community structure of a selected microbiota type. In vitro-produced proximal colon microbiota from chemostat models can also serve as a stable and readily available inoculum for batch experiments[55]. Finally, a combination of in vitro HGM with in vitro host cell models can give insights into host-microbiota interactions while avoiding animal testing.
Despite the multiple opportunities for in vitro HGM models, certain challenges, such as the miniaturization and increased throughput of chemostat models, remain. Current chemostat setups also do not allow for the accurate application of nutrient, pH, and redox gradients as they occur in the human gut. Furthermore, an approach combining HGM fermentation with host cellular models remains under-researched, presenting specific challenges in regard to controlled gradients and maintaining meaningful host cell and bacterial viability.
DECLARATIONS
Authors' contributions
Contributed to manuscript conceptualization: Isenring J, Bircher L, Geirnaert A, Lacroix C
Investigated literature and led the writing: Isenring J
Wrote the manuscript: Isenring J, Bircher L, Geirnaert A
Reviewed and edited the manuscript: Lacroix C
Availability of data and materials
Not applicable.
Financial support and sponsorship
This work was supported by Swiss National Science Foundation Project No. 310030_179307.
Conflicts of interest
All authors declared that there are no conflicts of interest.
Ethical approval and consent to participate
Not applicable.
Consent for publication
Not applicable.
Copyright
© The Author(s) 2023.
Cite This Article
OAE Style
Isenring J, Bircher L, Geirnaert A, Lacroix C. In vitro human gut microbiota fermentation models: opportunities, challenges, and pitfalls. Microbiome Res Rep 2023;2:2. http://dx.doi.org/10.20517/mrr.2022.15
AMA Style
Isenring J, Bircher L, Geirnaert A, Lacroix C. In vitro human gut microbiota fermentation models: opportunities, challenges, and pitfalls. Microbiome Research Reports. 2023; 2(1):2. http://dx.doi.org/10.20517/mrr.2022.15
Chicago/Turabian Style
Isenring, Julia, Lea Bircher, Annelies Geirnaert, Christophe Lacroix. 2023. "In vitro human gut microbiota fermentation models: opportunities, challenges, and pitfalls" Microbiome Research Reports. 2, no.1: 2. http://dx.doi.org/10.20517/mrr.2022.15
ACS Style
Isenring, J.; Bircher L.; Geirnaert A.; Lacroix C. In vitro human gut microbiota fermentation models: opportunities, challenges, and pitfalls. Microbiome. Res. Rep. 2023, 2, 2. http://dx.doi.org/10.20517/mrr.2022.15