Abstract
The classical cerebrospinal fluid biomarkers of Alzheimer's Disease (namely total tau, phospho-tau and amyloid beta peptide) have received much attention, since they can detect the biochemical fingerprint of Alzheimer's disease and serve as a diagnostic aid for correct diagnosis of cognitive disorders during life. In this case series, we present 6 examples of patients with cognitive impairment of various types and severities and how biomarker data were helpful in every day diagnostic approach, combined with clinical, neuropsychological and imaging data and based on the most recent guidelines and recommendations.
Keywords
Cerebrospinal fluid, tau, phospho-tau, amyloid-beta, Alzheimer's disease, frontotemporal dementia, vascular cognitive impairment
Introduction
Until relatively recently, Alzheimer's disease (AD) was diagnosed according to clinical criteria proposed more than 30 years ago, requiring the patient to be demented[1]. With time it became evident that AD patients may present with mild cognitive impairment[2], or may even be asymptomatic[3]. When symptomatic, amnestic dementia of the hippocampal type is the typical presentation[4,5]. However, atypical presentations are not infrequent, especially in presenile patients, including frontal-predominant, language-predominant, "posterior" or mixed presentations[4,5]. Such presentations may lead to diagnostic confusion, whilst even the typical hippocampal amnestic presentation may occur in non-AD disorders[6]. Thus, clinical presentations or phenotypes are rather viewed as syndromes, and they are by no means synonymous with a specific disease. Various types of biomarkers may be helpful in the diagnostic approach of such typical or atypical presentations, and they have been incorporated in various diagnostic criteria for AD[2,4,5].
Recently, the National Institute of Ageing and Alzheimer Association (NIA-AA) Research Framework group recommended a system for classifying subjects/patients on the basis of their biomarker profile, since it may result from different biomarker categories, especially neurochemical and imaging[7]. The objective was to update a scheme for defining and staging AD mainly across its entire spectrum, to be used for research purposes, either observational or interventional. A further shift in thinking is the separation of the syndrome from the disease, as symptoms are considered part of the disease continuum and not its definition. Looking towards a biological definition of AD, as it is identified post mortem by accumulation of amyloid-β and tau and reflected in vivo by biomarkers, the group discriminates them according to their molecular specificity [i.e., amyloid-β (Aβ) and pathological tau (phospho-tau)]. For this scope, they propose the AT(N) system[7], where A stands for amyloid-β plaques or associated pathological state, T for aggregated hyperphoshorylated tau or associated pathological state and (N) for neurodegeneration. The parentheses are to indicate that it represents cumulative brain injury/neurodegeneration from all etiologies and is not specific for any certain etiology. A (C) component is used to define mental decline and staging, from cognitively unimpaired to mild cognitive impairment and finally dementia, according to cognitive symptoms and neuropsychological testing. Thus, each biomarker category can be dichotomized as positive (+) or negative (-), resulting in eight different biomarker profiles and 3 "biomarker categories": normal [A-T-(N)-], Alzheimer's continuum [A+T-(N)-, A+T+(N)-, A+T+(N)+, A+T-(N)+] and suspected non-AD pathological change [A-T+(N)-, A-T-(N)+, A-T+(N)+][7].
Here, we present a case series of six patients with different types of cognitive disorders using this system. Cases were selected with the only criterion being that they were educationally useful and interesting for clinicians and medical students, and all co-authors helped in the selection of cases, in an unblinded manner. We describe their clinical, imaging and cerebrospinal fluid (CSF) biomarker data and how these could be suggestive of diagnosis, according to the AT(N) system. All patients were analyzed routinely in our department as part of the everyday diagnostic approach and they were not included in any particular study.
Lumbar puncture was performed at 10-11 am, after overnight fasting, at the L4-L5 interspace, according to recently proposed recommendations on standardized operating procedures (SOPs) for CSF biomarkers[8], as described elsewhere[9]. In brief, 4 polypropylene tubes were used for CSF collection. The initial tube (2 mL) was used for routine cytology and biochemistry and the 2nd tube (2 mL) was used for determination of IgG index, oligoclonal bands and for syphilis serology. The last 2 tubes (5 mL each) were immediately centrifuged, aliquoted in polypropylene tubes (750 μL each) and, finally, stored at -80 °C until analysis. Aliquots were thawed only once, just before analysis, which was performed within 6 months of storage.
CSF levels of total tau protein (τT), amyloid-β peptide and tau phosphorylated at threonine-181 (τP-181) were measured blindly, in duplicate by double-sandwich, enzyme-linked immunosorbent assay (ELISA) using commercially available kits (Fujirebio, Gent, Belgium) according to the manufacturer's instructions, as previously described[9]. In-house standards were used during every to ensure minimal measurement error (≤ 3.3%), and inter-assay and intra-assay variations were ≤ 6.6% for all biomarker assays[10]. Cut-off values have been previously calculated by receiver operating curve (ROC) analysis[9,11]. Table 1 shows the CSF biomarker categories used in our clinic/laboratory and their most recently used normal (cut-off) values[9]. Figure 1 presents a proposed simplified scheme for the diagnostic use of CSF biomarkers, according to the "philosophy" and nomenclature of the AT(N) system[7].
Table 1
Normal (cut-off) values of our laboratory[9]
| CSF biomarker | Normal value |
| --- | --- |
| total tau protein (τT) |  < 376 pg/mL |
| tau phosphorylated at threonine-181 (τP-181) |  < 57 pg/mL |
| amyloid-β peptide with 42 amino acids (Aβ42) |  > 682 pg/mL |
| Aβ42/Aβ40 |  > 0.09 |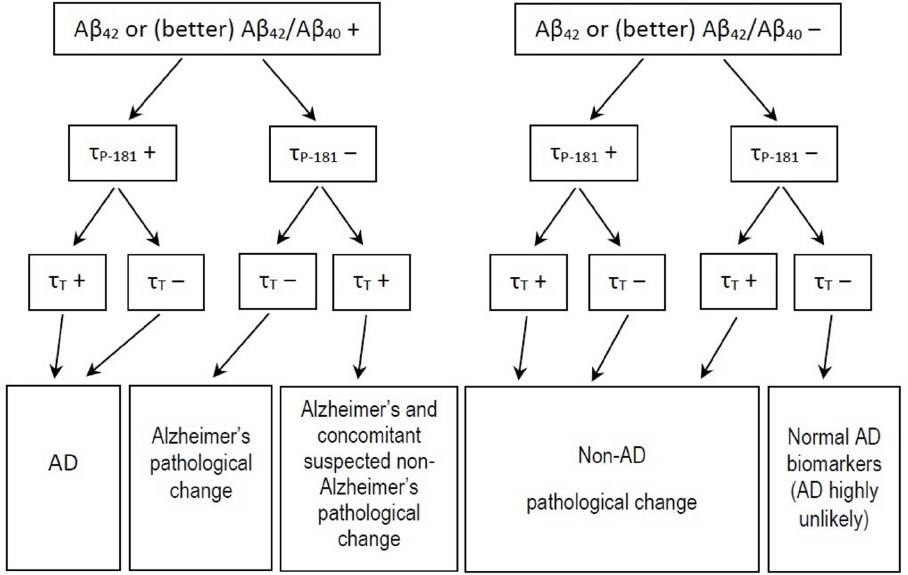 Figure 1. Flow chart of the use of cerebrospinal fluid biomarkers in clinical practice, according to the AT(N) system[7]. AD: Alzheimer's disease
Case report
Discussion
We presented 6 patients as examples of a combined diagnostic approach based on clinical, imaging and CSF biomarkers, according to the AT(N) system[7]. In case 1, the diagnosis of AD was made in a symptomatic yet predementia stage (MCI). Case 2 was an amnestic dementia patient, and atypical features included presenile onset and absence of atrophy at presentation; however, CSF biomarkers revealed AD biochemistry and clinical-imaging progression was typical.
In case 3, a moderate ischemic lesion load could have contributed to the patient's symptoms, but AD was additionally present. This is a frequent scenario[20], and CSF biomarkers are helpful in the discrimination between cases with pure vascular cognitive impairment and mixed cases (with additional AD)[21,22].
In case 4, a 59-year-old-female, clinically fulfilled the clinical criteria of an amnestic dementia of the AD type[1]. However, clinical presentation does not always predict brain pathology. For example, AD can present with common amnestic dementia but also with a frontal behavioral-dysexecutive syndrome, the so-called "frontal variant of AD"[4,5]. Likewise, patients with FTLD pathologies may also present with an amnestic, AD-like syndrome. The term limbic-predominant age-related TDP-43 encephalopathy (LATE) has been recently introduced for at least some of these cases, and consensus-based recommendations and guidelines for diagnosis and staging have been formulated[6]. Thus, clinical, biochemical, neuropsychological and imaging data, all should be considered. Of course, there is always the possibility of false-negative or false-positive results. Since all biomarkers become abnormal during prodromal stages of AD, all would be expected to be abnormal in a well-established AD dementia[23]. However, in this patient, all biomarkers were normal, dramatically reducing the possibility of false-negative results and pointing to a non-AD pathology. Indeed, with all CSF biomarkers normal, AD is considered highly unlikely according to recent recommendations[15]. Clinically the patient is not compatible with dementia with Lewy bodies (DLB), and to our knowledge, there are no robust, evidence-based data to support the use of standard AD treatments in non-AD, non-DLB patients. Thus, correct diagnosis would also avoid possibly unnecessary treatment(s) suitable for other diseases.
In case 5, TDP-43 proteinopathy was strongly considered from clinical presentation of combined phenotype FTD-ALS in the family, which is known to be related to a TDP-43 histopathology[24,25]. The CSF biomarker profile was compatible with non-AD pathology. In case 6, an AT(N) profile suggestive of non-AD pathology was also observed. However, in this patient, τP-181 was increased. Recently, it has been suggested that in an FTD-like patient, with no AD biomarker profile, increased τP-181 is more compatible with tau-pathology, while low τP-181 may be compatible with TDP-43 pathology[19]. Thus, the tauopathy observed in brain biopsy was in accordance with this notion.
Soon after its publication, the AT(N) system triggered a lot of discussion and criticism. The concept of a disease viewed as a pathological/pathophysiological/biochemical entity unrelated to symptoms may not be easily accepted by some clinicians or the community[26]. However, given that the same disease may present with different clinical syndromes and that the same clinical presentation may be caused by different diseases, this new view is really a step forward, and this holds true not only for AD but also for many other neurodegenerative disorders. Furthermore, since the AD pathological process starts even decades prior to symptomatic onset, whilst CSF or imaging biomarkers become abnormal in the preclinical stage[23], the need for adopting such a view/concept is further strengthened. However, many questions seek answers. For example, what about an A+T+N+ patient with a clinical presentation suggestive of DLB. Is this due to mixed pathology (synucleinopathy and AD)[5,27] or due to AD with atypical presentation[28]? Another related question is a DLB-like patient with only amyloid biomarkers being positive. This is very common in DLB[29]. But, is this due to the synucleinopathy alone somehow triggering amyloid deposition unrelated to AD mechanisms, or are such patients "destined" to develop full-blown AD pathology if they live long enough? Furthermore, reduced Aβ42 levels have been observed in some patients with pure vascular dementia[20], including patients with inherited subcortical small vessel disease[30], who do not have additional AD pathology, raising questions as to whether reduced Aβ42 always suggests Alzheimer's pathological change.
Other CSF biomarkers may be of further help and improve the AT(N) system. Other forms of phospho-tau such as τP-217 may perform better, compared to τP-181[31]. TDP-43 combined with τT and τP-181 could enhance the diagnostic accuracy in the FTD spectrum[32,33]. CSF α-synuclein levels could be useful in discriminating patients with AD from cognitively unimpaired subjects, patients with DLB and patients with Parkinson's disease dementia[34,35]. Blood-based biomarkers are quite promising as well, since classical AD biomarkers may also be measured in plasma. Plasma τP-181 could differentiate AD dementia from non-AD neurodegenerative diseases with accuracy similar to that of CSF τP-181 and tau-PET[36], while plasma Aβ42/Aβ40 ratio has been associated with amyloid PET status in cognitively normal subjects[37].
Inflammation biomarkers in CSF and blood have received much attention; however, whether they offer any added diagnostic value remains a matter of investigation. CSF α1-antichymotrypsin levels are increased both in vascular cognitive impairment (VCI) and clinically evident AD, while elevated peripheral CRP levels may be associated with increased risk for VCI, but not AD[38]. Serum interleukin-15 levels have been found to be significantly lower in patients with AD in comparison to healthy subjects and patients with VCI[39]. On the other hand, CSF interleukin-15 levels are increased in AD and FTD, compared to patients with non-inflammatory neurological disorders[40], while CSF interleukin-12 is reduced in AD, indicating altered inflammatory reactions[41].
In neurodegenerative disorders, diagnosis should be established as soon as possible and preferably in a prodromal phase, before the onset of clinically significant dementia. Additionally, new emerging treatments or medications under investigation may be more effective when given in early stages. Therefore, timely and accurate diagnosis is mandatory to obtain potential benefits of novel treatments, but also for accurate inclusion of patients in clinical trials and for determining prognosis. As noted above in case 4, clinical phenotypes are not always tightly linked to the underlying pathology[5,6,9] in contrast to biomarkers, some of which may have high molecular specificity. Nonetheless, CSF biomarkers are not a panacea, and their value should not be over-rated. They have disadvantages mainly due to the heterogeneity of research to date, but they still offer a very useful tool in early etiological diagnosis of neurodegenerative diseases, especially when combined with clinical and neuroimaging data[17].
Declarations
Authors' contributions
Concept and definition of intellectual content: Kapaki E, Paraskevas GP
Clinical data acquisition and interpretation: Kapaki E, Constantinides VC, Pyrgelis ES, Paraskevas PG, Papatriantafyllou JD, Paraskevas GP
Biomarker determinations and interpretation of results: Kapaki E, Paraskevas GP
Manuscript preparation, editing and review: Kapaki E, Pyrgelis ES, Paraskevas PG, Papatriantafyllou JD, Paraskevas GP
Availability of data and materials
Not applicable.
Financial support and sponsorship
None.
Conflicts of interest
The authors declared that there are no conflicts of interest.
Ethical approval and consent to participate
Not applicable.
Consent for publication
All patients and/or relatives gave informed consent for publication of their clinical, biochemical and imaging data.
Copyright
© The Author(s) 2020.
Cite This Article
OAE Style
Kapaki E, Constantinides VC, Pyrgelis ES, Paraskevas PG, Papatriantafyllou JD, Paraskevas GP. Biomarker-based diagnosis of cognitive disorders in a case series. Neuroimmunol Neuroinflammation 2020;7:319-29. http://dx.doi.org/10.20517/2347-8659.2019.26
AMA Style
Kapaki E, Constantinides VC, Pyrgelis ES, Paraskevas PG, Papatriantafyllou JD, Paraskevas GP. Biomarker-based diagnosis of cognitive disorders in a case series. Neuroimmunology and Neuroinflammation. 2020; 7(4):319-29. http://dx.doi.org/10.20517/2347-8659.2019.26
Chicago/Turabian Style
Kapaki, Elisabeth, Vasilios C. Constantinides, Efstratios-Stylianos Pyrgelis, Panagiotis G. Paraskevas, John D. Papatriantafyllou, George P. Paraskevas. 2020. "Biomarker-based diagnosis of cognitive disorders in a case series" Neuroimmunology and Neuroinflammation. 7, no.4: 319-29. http://dx.doi.org/10.20517/2347-8659.2019.26
ACS Style
Kapaki, E.; Constantinides VC.; Pyrgelis E.S.; Paraskevas PG.; Papatriantafyllou JD.; Paraskevas GP. Biomarker-based diagnosis of cognitive disorders in a case series. Neuroimmunol. Neuroinflammation. 2020, 7, 319-29. http://dx.doi.org/10.20517/2347-8659.2019.26