1Department of Environmental Health Sciences, Arnold School of Public Health, CENR, University of South Carolina, Columbia, SC 29209, USA.
2Department of Cell Biology and Anatomy, School of Medicine, University of South Carolina, Columbia, SC 29209, USA.
3Department of Pathology, Microbiology, and Immunology, School of Medicine, University of South Carolina, Columbia, SC 29209, USA.
Correspondence Address: Dr. Swapan K. Ray, Department of Pathology, Microbiology, and Immunology, School of Medicine, University of South Carolina, Building 2, Room C11, 6439 Garners Ferry Road, Columbia, SC 29209, USA. E-mail: swapan.ray@uscmed.sc.edu
Abstract
Spinal cord injury (SCI) affects approximately 200,000 individuals per year worldwide. There are more than 27 million people worldwide living with long-term disability due to SCI. Historically, it was thought that the central nervous system (CNS) had little ability for regeneration; however, more recent studies have demonstrated potential for repair within the CNS. Because of this, there exists a renewed interest in the discovery of novel approaches to promote regeneration in the CNS including the spinal cord. It is important to know the roles of the microRNAs (miRNAs) in modulation of pathogenesis in SCI and the potentials of the miRNA-based clinical interventions for controlling post-injury symptoms and improving functional recovery. The miRNAs, which are non-coding RNAs with an average of 22 nucleotides in length, are post-transcriptional gene regulators that cause degradation of the target mRNAs and thus negatively control their translation. This review article focuses on current research related to miRNAs and their roles in modulating SCI symptoms, asserting that miRNAs contribute to critical post-SCI molecular processes including neuroplasticity, functional recovery, astrogliosis, neuropathic pain, inflammation, and apoptosis. In particular, miR-96 provides a promising therapeutic opportunity to improve the outcomes of clinical interventions, including the way SCI injuries are evaluated and treated.
Keywords
Spinal cord injury, miRNAs, astrogliosis, neuropathic pain, inflammation, apoptosis, functional recovery
Introduction
Spinal cord injury (SCI) results from contusion/compression or transection of the spinal cord. SCI is a significant health issue with an estimate putting the number of people living with this neurological condition at more than 300,000 in the United States[1]. Because of the high number of casualties, SCI is also associated with various socio-economic challenges[2]. Hence, it is essential to understand the molecular mechanisms of pathogenesis in SCI in animal models and to elucidate novel therapeutic interventions for this devastating neurological condition[3]. The emergence of microRNAs (miRNAs) as potent regulators of gene expression at the post-transcriptional level has vast implications in many critical biological processes that include cell proliferation, differentiation, survival, and metabolism[4]. Studies indicate that miRNAs are currently attractive candidates as the upstream regulators of secondary injury progression in SCI because miRNAs are known to regulate entire sets of genes post-transcriptionally. Specific miRNAs (such as miR-96 and miR-544a) are potentially deregulated after SCI and the impact of this deregulation is an area of great interest[5].
Bioinformatic analysis indicates that the potential targets of miRNAs altered after SCI include genes encoding components that are involved in inflammation, oxidative stress, and apoptosis, all of which are known to be crucial for progressive pathogenesis in SCI, suggesting that abnormal expression of miRNAs may contribute to the pathogenesis in SCI. Levels of expression of miRNAs were identified to be deregulated (decreased or increased) in SCI animals[6]. A later investigation showed dramatic decreases in the expression of miRNAs including miR-96 in SCI[7]. Upregulation of miR-96 is likely to promote cell proliferation[8] and prevent neurodegeneration[9] for contribution to functional neuroprotection in SCI. Because miRNAs highly decrease specific gene expression and deregulation of miRNAs does occur in SCI, the potential of particular miRNAs as therapeutic agents should now be explored for functional neuroprotection in SCI[10]. This review article mainly focuses on recent research related to changes in expression of miRNAs following induction of SCI and effects of modulation of levels of miRNAs on critical molecular processes including neuroplasticity, astrogliosis, neuropathic pain, inflammation, apoptosis, and functional recovery in SCI. The last section of this review article focuses explicitly on miR-96 as an emerging post-transcriptional regulator that has the potential to revolutionize SCI clinical interventions.
SCI pathophysiology and miRNAs
The occurrence of SCI is classified into two different stages: primary stage (a few moments following the initial injury) and secondary stage (hours, days, or weeks after the initial injury). Research shows that the first phase of SCI is the best predictor of future prognosis[11,12]. During the first phase, SCI is manifested with immediate changes in pathophysiology such as hemorrhage, Ca2+ overload, and activation of the Ca2+-dependent cysteine protease calpain causing necrotic and apoptotic neuronal death at the site of impact[13]. The secondary phase begins with molecular and physiological changes responsible for bleeding, loss of neurological functions, expansion of the lesion area, and overall amplification of the injury[14,15]. The secondary phase is also characterized by biochemical reactions, vascular alterations, inflammation, and edema[16]. The main pathological mechanisms responsible for the changes during the secondary phase are the depletion of energy, which is caused by ischemia and oxidative stress, neuroinflammation, and activation of calpains and caspases for cell death at the site of injury and the penumbra[17]. The combination of cellular and molecular modifications leads to various pathological events ranging from astrogliosis to apoptosis and tissue atrophy[18]. Understanding the pathological events is highly crucial for modulating progression of pathogenesis leading to activation of cysteine proteases in both acute and chronic SCI and for implementing therapeutic interventions[19]. It has been shown that attenuation of neuroinflammation and neurodegeneration with appropriate therapeutic interventions is essential for functional recovery in preclinical models of SCI[20,21]. A relatively novel therapeutic intervention evaluated for the treatment of SCI in preclinical models is the utilization of miRNAs[22]. The miRNAs are small non-coding RNA molecules that post-transcriptionally regulate gene expression by degrading and inhibiting translation of target mRNAs [Figure 1].
Figure 1. The biosynthesis of miRNAs begins in the nucleus. RNA polymerase (RNA pol) transcribes primary miRNAs, which consist of a poly-A tail and a 5' cap. The multi-processor complex made up of double-stranded-RNA-binding protein and the RNase III enzyme Drosha to form pre-miRNAs. The Ran-GTP complex and karyopherin export pre-miRNAs into the cytoplasm. To finalize the process, the RNase III enzyme Dicer cleaves pre-miRNAs and triggers a further processing step by generating the miRNA. When miRNA-induced silencing complex (miRISC) is in the cytoplasm, miRNAs act on the target transcripts via complementary Watson-Crick base pairing to the corresponding miRNA response elements (MREs), which are usually present within the 3ʹ-untranslated regions (3'UTRs) of target genes. Upon binding to MREs within 3'UTRs, miRNAs reduce protein outcome from the target transcripts due to translational repression and/or mRNA deadenylation and decay mechanisms
The biogenesis of miRNAs occurs from pre-miRNA precursors and miRNAs are present not only in body fluid (sputum, serum, and blood) but also in body tissues where they are associated with the regulation of expression of target mRNAs[23]. Different miRNAs are also found in the central nervous system (CNS) where they act as essential mediators of neurodevelopment in the brain and spinal cord in mammals. For example, specific miRNA expression (e.g., miR-17~92 clusters) controls neural growth as well as neurogenesis-gliogenesis switch in the developing CNS including spinal cord. Likewise, miRNAs target genes that are involved in the regulation of essential pathophysiological processes including apoptosis (miR-124 and miR-21), inflammation (miR-544a), and astrogliosis (miR-145 and miR-21) in the spinal cord[24]. The alterations in the expression of miRNAs following SCI can be categorized into three groups: (1) increased miRNAs; (2) decreased miRNAs; and (3) bidirectional (increased or decreased) miRNAs. The expression of specific miRNAs such as miR-146a and miR-129-2 is significantly influenced by the injury severity. The down regulation of specific miRNAs such as miR-219 and miR-124 is associated with the death of neural cells. On the other hand, the overexpression of specific miRNAs (e.g., miR-223) is due to infiltration of vascular and immune cells. Such infiltration of immune cells has been observed during the acute stage of SCI. Research has shown changes in miR-451 during the initial phase of SCI[25]. Other studies also indicate the important roles of miRNAs in regulating immune response and alleviation of inflammation following SCI. For example, miR-544a is down regulated after SCI while genes associated with inflammation (especially NEUROD4) are overexpressed[26]. These results suggest that miR-544a is essential in the repair process after SCI, although further research is required to confirm this assertion.
Potential roles of miRNAs in SCI
Molecular insights into roles of miR-96 in SCI
Conclusion
Recent preclinical evidence makes it clear that miRNAs are useful therapeutic tools that modulate critical molecular processes and enhance functional recovery after SCI. In this article, we have discussed some examples, highlighting how the expression of miRNAs triggers complex interactions and changes at the cellular and protein levels. These changes affect SCI pathophysiology and have been identified as regulators and contributors to secondary injury. The assertions made in recent studies indicate that manipulating the expression of miRNAs may provide an opportunity for developing the improved therapeutic and clinical interventions for dealing with the devastating consequences of SCI [Figure 4]. In fact, it is essential to note that not all miRNAs affect SCI positively. However, many of the miRNAs discussed in this review article have been shown to contribute positively to the management of SCI. For example, miR-96 promotes axonal growth, cell regeneration, neuroplasticity, and facilitates functional recovery, although more research is needed in this regard.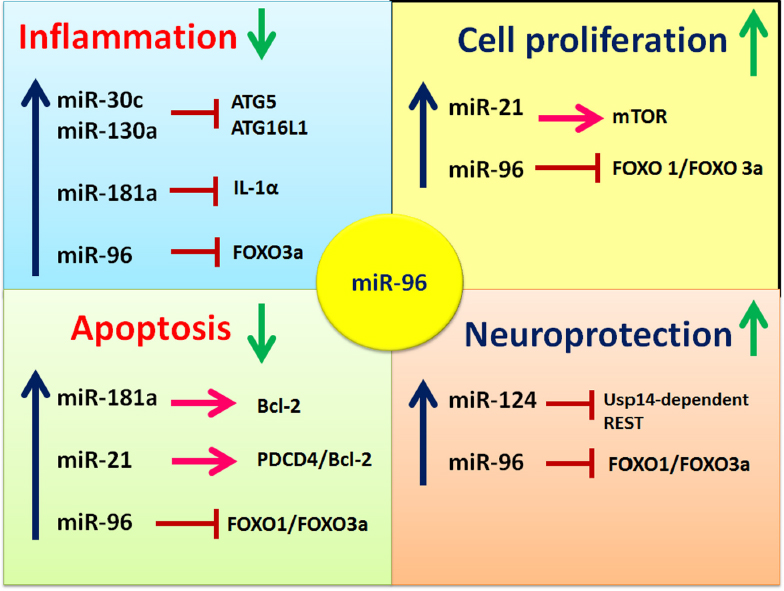 Figure 4. Summary of the roles of essential miRNAs including miR-96 in spinal cord injury (SCI). SCI affects the expression of miRNAs, which are known to regulate processes such as cell proliferation, inflammation, and apoptosis. Particularly, miR-96 is essential for neuroprotection as it induces multi-protective functions by targeting and down regulating FOXO pathways
Declarations
Authors' contributions
Conceptualized the theme and conducted the literature review process: Almurshidi B
Contributed to preparation and revision of the manuscript, interpretation of subtopics, and preparation figures: Almurshidi B, Ray SK
Approved the final version to be published: Almurshidi B, Carver W, Scott G, Ray SK
Availability of data and materials
Not applicable.
Financial support and sponsorship
The work was supported in part by an investigator-initiated research grant (SCIRF-2015-I-01) from South Carolina Spinal Cord Injury Research Fund (Columbia, SC, USA), an award from the Soy Health Research Program (SHRP, United Soybean Board, Chesterfield, MO, USA), and earlier R01 grants (CA-091460 and NS-057811) from the National Institutes of Health (Bethesda, MD, USA).
Conflicts of interest
All authors declared that there are no conflicts of interest.
Ethical approval and consent to participate
Not applicable.
Consent for publication
Not applicable.
Copyright
© The Author(s) 2019.
Cite This Article
OAE Style
Almurshidi B, Carver W, Scott G, Ray SK. Roles of miRNAs in spinal cord injury and potential therapeutic interventions. Neuroimmunol Neuroinflammation 2019;6:11. http://dx.doi.org/10.20517/2347-8659.2019.19
AMA Style
Almurshidi B, Carver W, Scott G, Ray SK. Roles of miRNAs in spinal cord injury and potential therapeutic interventions. Neuroimmunology and Neuroinflammation. 2019; 6:11. http://dx.doi.org/10.20517/2347-8659.2019.19
Chicago/Turabian Style
Almurshidi, Badria, Wayne Carver, Geoff Scott, Swapan K. Ray. 2019. "Roles of miRNAs in spinal cord injury and potential therapeutic interventions" Neuroimmunology and Neuroinflammation. 6: 11. http://dx.doi.org/10.20517/2347-8659.2019.19
ACS Style
Almurshidi, B.; Carver W.; Scott G.; Ray SK. Roles of miRNAs in spinal cord injury and potential therapeutic interventions. Neuroimmunol. Neuroinflammation. 2019, 6, 11. http://dx.doi.org/10.20517/2347-8659.2019.19