INTRODUCTION
The human body harbors several hundred different microbial species, which collectively encode about 150-fold more genes than those in the human genome[1-3]. The microbiota encompasses bacteria, viruses, fungi, and archaea that inhabit different niches in the human body and have coevolved with humans over the past six million years to establish a tightly regulated symbiotic relationship. The intestinal microbiota contributes to the regulation of epithelial cell homeostasis and barrier integrity[4], the maturation and differentiation of the mucosal immune system[5], and the coordination of systemic metabolic and endocrine functions[6]. The disruption of mutualistic microbiome-host interactions in the intestine drives tissue and organ aberrations, which may lead to the initiation or progression of diseases. The change in intestinal microbiota composition (dysbiosis) has been implicated in a wide range of chronic diseases, including metabolic disorders (e.g., obesity and obesity-associated metabolic diseases including type 2 diabetes mellitus (T2DM) and non-alcoholic fatty liver disease (NAFLD)[7-11], immune-mediated diseases [such as inflammatory bowel diseases (IBD)][12-17], and colorectal cancer (CRC)[18-20].
Obesity and its associated-metabolic diseases, IBD, and CRC are recognized as multi-factorial diseases with a globally rising disease incidence[21-23]. Their etiology involves a complex interaction of genetic, environmental, and immune-mediated factors[24-29]. The three disease entities share a common basis of chronic inflammation associated with dysbiotic intestinal bacterial communities, characterized by reduced richness, in addition to a reduction of beneficial microbes and an expansion of putative pathobionts[30]. Alterations in intestinal bacteria composition have been described in obesity and T2DM. Previous reports showed an increased abundance of Escherichia coli, Veillonella, Blautia, Anaerostipes, Lactobacillus, Faecalibacterium, and Clostridiales in T2DM. On the contrary, a reduced abundance of Bacteroides, Bifidobacterium, Parabacteroides, Oscillospira and the mucin-degrading Akkermansia muciniphila was shown to be associated with improved metabolic health[31-33]. Similarly, in IBD, inflammatory responses in humans as well as experimental mouse models are linked to the over-representation of certain pathobionts such as Clostridium, Fusobacterium, Segmented Filamentous Bacteria (SFB), adhering invasive Escherichia coli (AIEC), and Enterococcus faecalis[12,15,34] and the reduction in beneficial butyrate-producing bacteria, such as Ruminococcaceae and Lachnospiraceae[12,15,35-37]. Additionally, the gut microbiota in patients with CRC shows an imbalanced bacterial community composition, characterized by a significant increase in Bacteroides fragilis, Fusobacterium nucleatum, Campylobacter, Enterococcus faecalis, and E. coli and a decrease in butyrate-producing Faecalibacterium, Blautia, Clostridium, and Roseburia[38,39]. Notably, patients with early-stage colorectal tumors (advanced adenomas) were shown to have a different gut microbiota composition compared to those with late-stage tumors (CRC)[40], suggesting that a dysbiotic gut microbiota plays a role in tumor progression.
Multiple lines of evidence unarguably identify the intestinal microbiota as one of the non-genetic central factors causally driving pathogenesis of these three diseases, as illustrated by the number of publications during the last decade [Figure 1]. In this regard, both host-microbe and microbe-microbe interactions form critical components of disease progression (pathobionts) as well as disease prevention (protective bacteria), depending on the specific microbe and disease. In metabolic diseases, germ-free (GF) mice are leaner than conventional mice and resistant to weight gain on a high-fat diet[41,42]. However, this protection against weight gain has been shown to be diet-dependent and not only rely on the microbiota presence[43,44]. Similarly, intestinal inflammation only develops in the presence of bacteria in most experimental models of IBD, whereas animals housed under GF conditions remain disease-free[45-50]. Equally, the observed absence of or reduction in tumor formation in CRC mouse models housed under GF conditions or subjected to antibiotic treatment clearly identifies the intestinal microbiota as a key driver in CRC initiation, progression, and metastasis[51-53]. Dissecting the underlying mechanisms of host-microbiota interactions in disease onset and progression is indispensable and requires representative models that mimic the complexity of the human gastrointestinal tract, including the intestinal epithelium, the gut microbial communities, and the immune milieu. At present, experimental human microbiota-associated mouse models are of great relevance in dissecting the complex interplay between microbes and the genetically susceptible host. Human microbiota-associated animal models using a human-derived microbiota of different complexities (complex, minimal consortia, or a single strain) allow us to uncover mechanisms of pathogenesis, as well as microbe-host interactions in numerous human pathologies, including obesity and its associated-metabolic diseases, IBD, and CRC[10,18,54-72]. Despite the known limitations of human microbiota transfer into GF mice[73], gnotobiotic models enable the study of perturbations in the gut microbiota in a controlled experimental setup, allowing the assessment of causality of the complex host-microbiota interactions. Next to in vivo animal models, in vitro fermentation systems have proved to be particularly useful in simulating human gut physiology through the rigorous control of experimental conditions, such as bacterial community density, luminal redox and pH, and gut transit time, which is not feasible using in vivo models. In addition, advancements in organoid microfluidics technology and three-dimensional ex vivo models of the human intestinal epithelium facilitate the study of the complex interactions between the microbiota and the intestinal epithelium and allow the discovery of novel metabolites as microbial targeting therapies.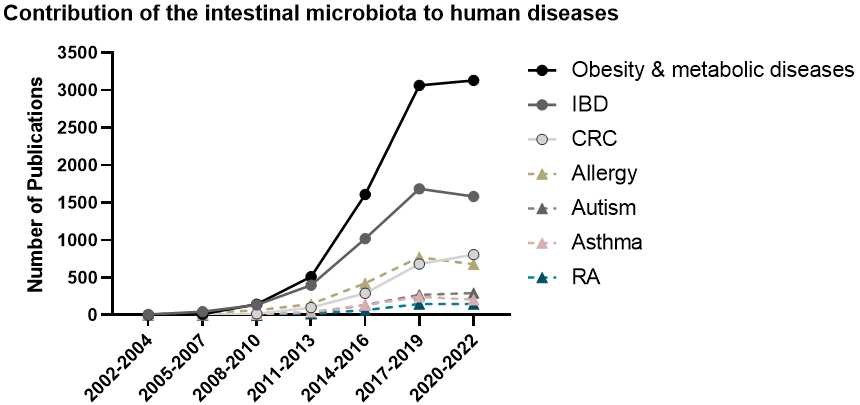 Figure 1. The number of publications related to the contribution of the intestinal microbiota to human diseases in the last two decades, grouped per year. Data were obtained by searching PubMed (https://pubmed.ncbi.nlm.nih.gov/) with the term "gut microbiota", and each human pathology indicated (retrieved 21 December 2021): Obesity, type 2 diabetes (T2D), inflammatory bowel disease (IBD), colorectal cancer (CRC), asthma, allergy, rheumatoid arthritis (RA), and autism.
In this review, we critically discuss the utility of different in vitro, ex vivo, and in vivo model systems in regard to the study of host-microbe interactions, focusing on the microbiota. We discuss the advantages and disadvantages of these models, with a particular focus on human microbiota-associated (HMA) mouse models, using obesity and its associated-metabolic diseases, IBD, and CRC as examples of three widely studied disease entities.
THE SIMPLER MODELS
In vitro fermentation
Using mouse models in gut microbiome research profoundly enhanced our understanding of complex microbe-host interactions in the pathogenesis of IBD, obesity and its associated metabolic diseases, and CRC[74-76]. However, translating the results from mouse models to humans remains challenging due to intrinsic anatomical, physiological, and ecological differences between the two systems that need to be considered[77,78]. To bridge this gap, continuous in vitro fermentation of complex gut microbial communities has been successfully developed to investigate microbe-microbe interactions while reducing animal testing and circumventing host confounding factors[79-84]. These models enable the cultivation of human-derived fecal samples under simulated physiological conditions (e.g., retention time, temperature, pH, and redox potential) that simulate the spatial, environmental, and temporal features of specific ecosystems, enabling translational mechanistic studies[85]. The complexity of in vitro fermentation systems ranges from simple batch culture systems to continuous in vitro fermentation systems (single-stage, multistage, or artificial fermentation)[86-89]. Each of these models has advantages and disadvantages, and the selection of the appropriate model depends largely on the study objectives.
The simplest model is batch fermentation, in which a pure or mixed bacterial community is grown in a selected medium inside sealed reactors or bottles under anaerobic conditions. This model is suitable for short-term experiments due to the rapid substrate depletion and reduction of pH, which can prevent further microbial activity. Simple batch fermentation is particularly useful for dietary compound fermentation studies[90-92]. For instance, simple in vitro batch fermentation was used to evaluate the prebiotic effect of new dietary components through testing the effect of the prebiotic on ammonia concentration, pH, and short chain fatty acid (SCFA) production in fecal cultures[90]. Furthermore, an in vitro batch fermentation model of the human colon can be used to replicate the microbial metabolic pathways in humans and thus stand as a suitable model for studying bacterial metabolism and for screening potential therapeutic targets[93]. Complex questions of bacterial metabolic modulation require continuous fermentation models where substrate replenishment and toxic product elimination are ensured under the tight control of growth conditions. Single-stage models are often used to mimic the proximal colon conditions. Conversely, multistage continuous fermentation allowed a more precise simulation of human colonic function that differs along the colonic regions (in bacterial composition and their metabolic activity), by combining three chemostats connected in series, replicating the proximal, transverse, and distal colon regions[94,95]. Artificial digestive systems have been developed to simulate the human gastrointestinal tract as well as its digestive functions. For instance, SHIME (simulator of the human intestinal microbial ecosystem) combines a series of five fermentation vessels that are operated in sequential batch mode, with the first two reactors simulating the digestive processes in the duodenum/jejunum and ileum, which are connected to the three-stage large intestinal model[96]. A major limitation of in vitro fermentation models is the inadequacy of simulating the host functionality (e.g., lack of immune milieu). To overcome this limitation, fermentation models incorporating intestinal cell cultures (e.g., colon epithelial cell cultures and/or immune cells) are implemented to reproduce the host responses in vitro[97].
Considering the pros and cons of each approach, complementing animal models and human studies with in vitro fermentation studies would broaden our insights into the complex relationship among the gut microbiota, diet, and host[83].
Ex vivo intestinal organoids
Three-dimensional cellular models better mimic intestinal architecture and physiology and have overtaken cell lines, which are usually derived from cancerous cells and display modified characteristics in molecular pathways. The group of Hans Clever published two pioneer studies showing the formation and growth of small intestinal[98] and colonic[99] organoids from intestinal epithelial stem cells, characterized by their 3D structure organized in proliferative crypt-like compartments and differentiated intestinal epithelial cell (IEC) types forming a monolayer. Additionally, organoids can be generated from induced pluripotent stem (iPS) cells and minced tissue[100].
The capacity of organoids to self-organize in compartments mimicking the intestinal epithelial structure (proliferative crypts and villi containing differentiated cell types), the presence of nearly all cell types forming the intestinal epithelium, and the possibility to grow them from various mice genotypes or human donors make them powerful tools to study intestinal homeostasis and model diseases. Monitoring the growth and differentiation of organoids in real time provides insight into cell death/proliferation rates in a dynamic way, which would not be possible in vivo. For example, Nagpal et al. showed that the abundance of Firmicutes and Verrucomicrobia in Leptin-deficient mice positively correlated with an abnormal cellular turnover, while Bacteroides species abundance negatively correlated with these markers of epithelial homeostasis in organoids derived from Lepob/ob[101].
As an intermediate model between cell lines and mouse models, organoids allow the modeling of intestinal diseases with genetic modifications, notably in the study of genes of which the knockout causes embryonic lethality, while also reducing the use of animals. The ability to culture human organoids derived from donors has enabled us to better characterize the epithelial contributions to intestinal diseases. IBD-related changes in DNA methylation identified in IEC were reproduced and maintained in pediatric IBD donor-derived organoids[102], as well as patient-specific abnormal epithelium polarity, proliferation properties, and inflammation levels[103]. Reproducing genetic mutations ex vivo also allowed for deciphering the consequences of somatic mutations found in IBD[104]. Intestinal organoids have been particularly useful to recapitulate phenotypes of CRC patient tumors. Noteworthy, colorectal organoid "living" libraries, including rare clinical subtypes, have been established and showed the importance of niche factors[105], as well as the possibility for applying high-throughput drug screening[106,107], thus emphasizing organoids as a tool allowing personalized medicines. Interestingly, very few studies investigate the epithelial contribution to obesity and metabolic diseases employing intestinal organoids. Nonetheless, Hasan et al. demonstrated that human intestinal organoids retained the glucose absorption characteristics of obese donors[108]. In addition, a study showed a proof of principle that human intestinal organoids (derived from iPS) can be modified and used as surrogate glucose-responsive and insulin-producing cells, which survived in vivo in mice. Altogether, these works highlight the potential of organoids in understanding human diseases and complementary therapeutic approaches.
Despite their above-mentioned advantages, organoid applications in the field of intestinal diseases display critical limitations. The lifespan of organoids in culture-in the range of weeks-restricts studies to short-term effects and constrains experimental setups to passaging to prevent the overgrowth of organoids, which would eventually lead to cell death. In addition, heterogeneity in size, shape, and differentiation of organoids generates variability within and between experimental conditions and can hinder possible readouts, such as growth and budding measurements. Conversely, this diversity and plasticity may highlight important morphological and functional differences, notably in human organoids. Exemplary, IBD patient-derived organoids were shown to exhibit various structural epithelial phenotypes based on the donor and the level of inflammation[103]. Donor-to-donor heterogeneity and variability can be assessed and characterized to produce donor-specific data profiles[109]. Studying cellular mechanisms is possible by adjusting the growth factors in the media to modify the composition in stem cells versus differentiated cell lineages in organoids[110] and even further to favor specific rare epithelial cell types[111]. However, organoids do not recapitulate the level of complexity of the intestinal environment, which results from intricate interactions among the epithelial cells, immune cells, nervous system, and, importantly, commensal microorganisms.
New techniques to "engineer" organoids, such as air-liquid interface and "organ-on-a-chip"[112], provide tools to circumvent the absence of a mesenchymal compartment, vascularization, and the intestinal microbiome, through co-cultures with other cell types, notably immune cells, and have been reviewed by others[113,114].
When it comes to studying direct host-microbiota interactions, the co-culture of intestinal organoids with bacteria faces the technical challenge of bacteria accessing the apical epithelium to mimic the physiological polarized interaction, while the basolateral side is easily reachable for the addition of, e.g., cytokines. Such technical pitfalls, outlined in more detail below, might be one of the major limitations of applying ex vivo organoids in the microbiome field to study microbiota-associated human diseases. Besides fragmentation or direct addition of bacteria or their products to the media, microinjection of bacteria into the lumen was the first method of accessing the apical side of the organoids[115]. The technical difficulties of this method (low number of replicates, clogging of the micropipette, and contamination due to organoid breaching) have led to the development of alternative approaches, such as the seeding of organoids as a 2D monolayer on semi-permeable filters (with distinct and easily accessible apical and basolateral compartments)[114] or the novel method of forcing apical-out polarity[116]. While the first approach allows the maintenance of organoids in culture over a longer period of time, it lacks the 3D architecture. The second technique is physiological but does not fully recapitulate in vivo tissue structure (as apical-out organoids are mostly cystic) and has the disadvantage of a very short lifespan in culture (up to five days). Finally, and more importantly, aerobic growth conditions suited for organoids challenge the survival of bacteria, notably commensal intestinal anaerobic bacteria. This methodological aspect is particularly critical in the field of host-microbiota interactions. Nonetheless, recent progress has been made to overcome this problem. A recent study showed an engineered physiodynamic system with an anoxic-oxic interface that allows the co-culture of the human microbiome (shown to form microcolonies) with organoids derived from patients with Crohn's disease, ulcerative colitis, or CRC and exhibiting disease-specific differentiations[117]. Another recent study also used a microfluidic platform to co-culture human donor-derived colonic organoids in monolayers with the super oxygen sensitive bacterium Faecalibacterium prausnitizii[118]. This system, anoxic on the apical side and oxic in the basolateral compartment, allowed for cultivating both bacteria and human cells for four days. These engineered platforms open perspectives to extend organoid methods to microbiota-host interactions in a physiological way.
Taken together, ex vivo organoids constitute a useful model to decipher molecular and cellular mechanisms in complement to more complex setups such as whole organisms. This relatively recent approach will continue to evolve technically, bringing complexity and refining the possibilities to answer questions related to host-microbiota interactions.
COMPLEX IN VIVO MOUSE MODELS
Experimental mouse models are valuable tools to study the functional impact of the gut microbiota on host health, thus helping to study basic immunological and microbe-host mechanisms of multiple human diseases[119-121]. Key advantages of using mouse models in studying human disease include low cost, availability of a wide range of inbred strains, and ease of genetic manipulation to represent certain aspects of the clinical phenotype or underlying mechanism of the human disease. At present, well-controlled animal facilities possess specific pathogen-free (SPF) mouse husbandry, where the mice are free of known pathogens but present with an indigenous microbiota of undefined composition. The exclusion of pathogens ensures increased uniformity and reproducibility of research results[122]. Although animal models can be informative, they fail to mimic the human gut microbiome and thus have limited translational potential for human microbiota-associated diseases. Therefore, disease-relevant HMA mouse models have been successfully established through the transfer of human microbiota into GF mice by fecal microbiota transplantation (FMT). A few limitations have been reported for HMA, including the incomplete maturation of the host immune system due to the absence of the microbiota during early life, leading to an impaired sensitivity of the immune system to inflammation[123,124]. Alternatively, microbiota depletion following antibiotic treatment has been used by some researchers to overcome these limitations[125-127]. Unlike GF animals, the antibiotic treatment allows the study of the role of gut microbiota in adult mice while maintaining cell functionality and immune system development[128-130]. In one study, the pre-treatment of mice with a four-day course of ciprofloxacin followed by daily inoculation of human donor microbiota through oral gavage was successful in establishing only a fraction of the complex bacterial community. Interestingly, a more extensive regimen of five different antibiotics, namely amphotericin-B, vancomycin, neomycin, metronidazole, and ampicillin, improved the engraftment efficiency of the transplanted human microbiota. However, this protocol required more extensive exposure to human microbiota through weekly gavage for 12 consecutive weeks[127]. As such, antibiotic treatment offers an inexpensive and less demanding alternative to GF mice; however, they still have the limitation of incomplete depletion of microbes and potential off-target effects, which might impact mitochondrial ribosomes and protein synthesis processes[131,132] and hence impact the findings of these experiments. For example, bactericidal antibiotics have been shown to disrupt the mitochondrial electron transport chain, leading to the buildup of reactive oxygen species in mice treated with clinically relevant doses of bacteriostatic antibiotics[133]. To improve the translational modeling of disease, one group established a new mouse model that acquired the microbes and pathogens of wild mice while maintaining the genetic background of the laboratory mice. This approach is known as "wildling". Notably, in two pre-clinical studies, the wild gut microbiota promoted host fitness and improved resistance to influenza A virus pulmonary infection[134,135] and inflammation-induced CRC[136].
CONCLUDING REMARKS
Over the last two decades, scientific interest in gut microbiota has increased significantly, and the link between the gut microbiome and numerous human diseases, including metabolic and inflammatory diseases and cancer, has been established. While most available microbiome studies reveal an association of dysbiotic gut bacterial communities with disease development, the underlying microbe-host interactions remain largely unclear. The wide array of available preclinical models allows tackling this aim through different approaches, addressing different aspects of the question. In vitro fermentation systems provide a tool to study microbe-microbe interactions in a host-independent manner; ex vivo organoid models allow us to decipher molecular mechanisms; and in vivo mouse models bridge all actors (the epithelium, immune system, and microbiota) of the disrupted host-microbiota interactions in pathological models. HMA mouse models have proved to be successful in recapitulating complex human diseases, such as obesity and its associated metabolic diseases, IBD, and CRC, and identifying potential mechanisms of microbe-host interactions. Considering the advantages and disadvantages of each modeling approach [Figure 3], complementing human studies with preclinical in vitro fermentation studies, ex vivo organoid systems, and in vivo HMA mouse models could help disentangle the complex interactions between the gut microbiota and the host.
Figure 3. Preclinical models for the study of human microbiome-associated diseases. Overview schematic summarizing the different models of choice to study functional host-microbiota interactions, with their advantages and disadvantages, in human diseases of the digestive system, such as obesity and related metabolic disorders, inflammatory bowel diseases, and colorectal cancer. Depicted are: (A) in vitro fermentation systems; (B) ex vivo intestinal organoids; and (C) in vivo HMA mouse models. GF: Germ-free.
DECLARATIONS
Authors' contributions
Made substantial contributions to conception and design of the review: Aguanno D, Metwaly A, Coleman OI, Haller D
Availability of data and materials
Not applicable.
Financial support and sponsorship
This work was funded by the Deutsche Forschungsgemeinschaft (DFG, German Research Foundation) - Projektnummer 395357507 - SFB 1371, has received funding from the European Union's Horizon 2020 research and innovation programme under grant agreement number 964590, and the Technical University of Munich (TUM) in the framework of the Open Access Publishing Program.
Conflicts of interest
All authors declared that there are no conflicts of interest.
Ethical approval and consent to participate
Not applicable.
Consent for publication
Not applicable.
Copyright
© The Author(s) 2022.