Editorial Board Member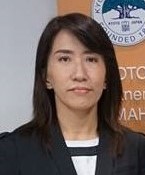 Department of Civil and Environmental Engineering, Faculty of Engineering, Mahidol University, Nakhon Pathom, Thailand.
HomePage
Bio
Dr. Suwanna Kitpati Boontanon received her PhD at Kyoto University under the supervision of Professor Shigeo Fujii. She is Associate Professor in Environmental Engineering at Mahidol University, Thailand and is the first faculty member having a joint appointment in the position of Associate Professor at the Graduate School of Global Environmental Studies, Kyoto University, Japan. She has held this cross appointment faculty position at both Kyoto University and Mahidol University since 2016. She is the Director of the Graduate Program in Environmental and Water Resources Engineering, Mahidol University. Dr. Suwanna received the Outstanding Research Award 2019 from the National Research Council of Thailand (NRCT) for her research "Prevention of Impacts of Hazard Substances Residuals in Agricultural Commodity and Food Logistics from ASEAN Economic Community (AEC): Monitoring and Tracing System of Veterinary Drug Residuals and Food Additives in Aquaculture and Livestock Commodity". She is one of the pioneer researchers in emerging contaminants research in Thailand and Asia. She is a key member of Mahidol University academics setting up the Kyoto University On-Site Laboratory at Mahidol University for Educational and Research Collaboration in Environmental Studies. She has been a reviewer under the Strategic Environmental Research and Development Program (SERDP), US. DoD, US. DOE and US. EPA since 2018. She also received the Outstanding Lecturer Award from the Council of Mahidol University Faculty Senates, Mahidol University, Thailand in 2020. Dr. Suwanna is the leader of the Emerging Contaminants and Environmental Innovation Research Laboratory that aims for in-depth understanding in the fate and behaviours of emerging contaminants, including Persistent Organic Pollutants (PFAS, PFOS, PFOA, HBCD, TBBPA), Pharmaceutical and Personal Care Products (PPCPs), antimicrobial resistance (AMR), microplastics in the environment as well as their risk assessment. Her work in the field of emerging contaminants covers development of innovative water and wastewater treatment technology to enhance water quality and minimize energy consumption (hybrid–membrane technology, nanotechnology, photocatalysis, ultrasonic and electrochemical oxidation technology); development of pollutants detection with sensor technology; and evaluation of water and pollutant balances in water environment.
Research Interests
Emerging contaminants, Risk assessment, Advanced treatment technology
Contributions:
Special Issue: