Section Editor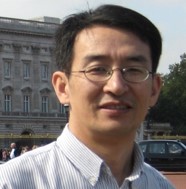 Xiang-Dong Yao
Editor in Energy Materials
School of Environment and Science, Queensland Micro- and Nanotechnology Centre, Griffith University, Brisbane, Australia.
HomePage
Bio
Prof. Xiangdong Yao is a full Professor of Energy Materials, a Fellow of the Royal Society of Chemistry.

He obtained his BEng at Northeastern University (China) in 1989 and MEng at Northwestern Polytechnical University (China) in 1992 respectively for Materials Science and Engineering. From 1992 to 2000, he was employed in Institute of Metal Research, Chinese Academy of Sciences as Research Associate (1992), Assistant Professor (1995) and Associate Professor (1998). In 2000, he came to The University of Queensland where he was granted the PhD degree in Materials Engineering in 2005, working on the computational modeling for microstructure formation in light metals. From November 2003, he joined the ARC Centre of Excellence for Functional Nanomaterials at The University of Queensland. Since November 2009, he joined Griffith University as an Associate Professor and the group leader of Advanced Energy Materials, and promoted to full Professor in late 2012.

He has published over 200 SCI papers in Chem. Soc. Rev., Chem, Nat Catal., Nat. Commun., Adv. Mater., Energy Environ. Sci., JACS, Angew. Chem., Nano Lett., etc. with more than 14000 citations and an H index of 66.

Prof Yao's current research focuses on Energy Materials, especially hydrogen-related materials.
Research Interests
energy materials, electrochemistry, defect engineering, atomically dispersed catalyst, hydrogen production/storage, fuel cells.
Contributions:
Special Issue: